Forrester's new report—Unlock the Hidden Value of Chatbots for Your Customer Service Strategy—outlines nine ways you can get value from enterprise chatbot deployments...and two common missteps to avoid.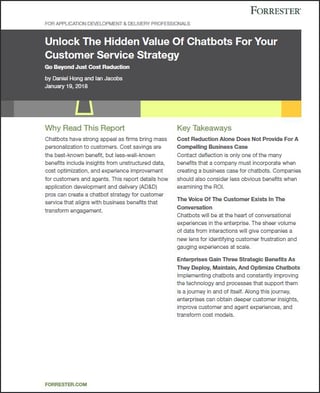 Why is this important?

Because if you need a business case for your bot, cost reduction alone may not be as compelling as it seems.

Forrester recommends you also account for nine less obvious benefits when mapping out the ROI.
What's more, this report contains not only Forrester's sage advice but a detailed profile of one business—Charter Communications—that has gotten the most out of their chatbot deployments.

We're happy to share Charter Communications' success, especially because we've worked closely together for the past six years!

Read the report. Then scan the Charter case study to learn how Charter achieved a 44% cost reduction in year one. In Charter's case, cost reduction indeed proved to be just as compelling as it seemed.

Get your free copy of the report now.

To learn how Charter achieved these results with Verint…or to uncover the compelling reason for chatbots in your organization…give us a call.