Even though AI is poised to completely reframe how businesses operate and consumers interact, many firms are not ready to invest because:

They are unclear what AI can be used for in their business, and
There is no defined business case for AI investment.

One reason behind the standstill is the AI landscape is complex. Navigating the AI ecosystem and prioritizing investment is becoming increasingly difficult.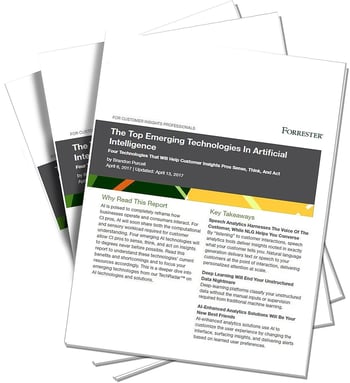 To help us navigate AI, Forrester analyzed the 12 most important AI categories as applied to customer insights.

What they found was only 30% of those technologies are mature enough to deliver business value and real impact on customer insight.
Forrester published their findings in a new report: The Top Emerging Technologies In Artificial Intelligence.
We are offering this report for a limited time to help you understand:
Why AI capabilities will become table stakes for customer analytics solutions

A short list of AI technologies to consider now

Benefits and shortcomings of the four AI technologies
I think you'll find this an exciting and important read.

Get your free copy of The Top Emerging Technologies in AI now.