Intelligent Assistance is a hot topic, yet we are seeing many companies struggle to obtain business value from the technology.
So we asked the smart guys at Opus Research (an analyst firm with extensive coverage of intelligent tech) to tell us why firms struggle and then to give us practical advice on how to make this new technology work.
Out of all the potential roadblocks--technical maturity, cost, wron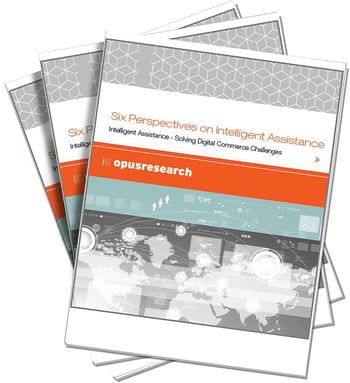 g strategy, etc., Opus zeroed in on departmental silos as one of the main barriers.
Opus says there are six groups that need to work together to make IA a success and deliver a stellar customer experience:
The IVR team

Contact Center Ops

System Design

Digital Commerce

Customer Experience


Marketing
But how to work together?
In this new and exclusive report, Six Perspectives on Intelligent Assistance, Opus discusses:
Why

Intelligent Assistance is a must-have for d

igital commerce

The perspective of the six departments on IA and what it means for their goals, KPIs and operations

Tips for working across departments to achieve success
If you're in one of these groups, or if you need to ensure IA is a success in your company, download and read the report today.
Get your free copy of this report now.