Learn how to apply AI to your live chat offering.
Offering your customers a way to self-serve is critically important in this age of insta-everything.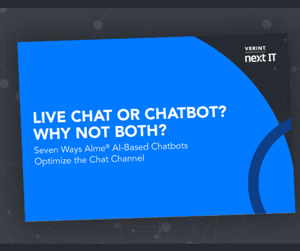 By augmenting your existing live-chat solution with an AI-based intelligent virtual assistant (IVA), or chatbot, that continually learns, you can improve service, reduce operating expenses and boost sales, all while still offering live chat in situations that truly require a live touch.
Download the eBook to:
Learn seven ways Alme AI-based IVAs optimize the chat channel

See client results from a 27% reduction in live chat costs to 5-fold ROI in the first few months

Review a checklist to see if an Alme-powered enterprise IVA is right for you

Discover how you can start driving better business value and customer service with intelligent virtual assistants
---
ABOUT NEXT IT
Next IT, a Verint Company, is the provider of conversational AI systems for the Global 5000. We propel businesses into the intelligence revolution with AI technologies that are enterprise ready on day one.
Our customers and strategic partners use our technology to build business-first AI solutions that put them a step ahead of their competition. By combining a proven platform with advanced conversation intelligence and experience toolsets spanning natural language understanding (NLU), natural language generation (NLG), machine learning, and conversation analysis, we ensure that every enterprise succeeds with AI now and in the future.