The Challenge
The shift to digital engagement for the contact center is a big, risky one. It's hard to determine how digital channels actually work for customer service and what the business case really is. And your environment and customers are unique so general claims may not hold true for you.

You know digital is coming but how do you start without a big, risky investment?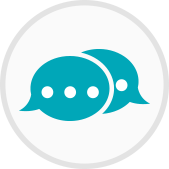 To overcome those challenges we developed the My:Time Pilot Program.
My:Time is a digital engagement solution that uses messaging apps and chatbots to optimize customer service for enterprise contact centers.
My:Time Pilot Program
The MyTime Pilot Program is a quick and easy way to test and evaluate the business benefits that My:Time provides in an operational setting. All the components needed to run a pilot are packaged and ready to go so you can deliver new digital services to customers within days.

Since digital engagement is new and unknown, we guide you through the entire process providing training, best practices, insights, support, hands-on reviews and business case modeling (and reporting). With minimal risk and effort the My:Time pilot allows you to build the business case needed to roll out digital engagement technology enterprise-wide.
Learnings and Benefits
By the end of your pilot you will-
Build a defendable business case based on insights, experience and hard data
Test strategies to develop insights
Learn how to operationalize and manage digital channels going forward
Understand digital engagement technology in your specific environment

The Pilot Solution & Scope
The solution that will be deployed for the pilot package includes everything needed to test messaging apps and automation in your contact center environment. The pilot runs for 12-20 weeks with a scope of up to 80 agents and at least 500 active customers. Contact Solutions supports you from start to end during the period.
Learn More
If this sounds interesting, the next step is for us to jump on a 30 minute call to discuss the details and answer your questions. Fill out the contact form to start the process.