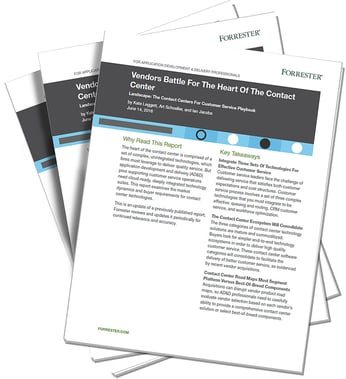 Running a contact center means addressing operational efficiencies while providing stellar, consistent service to your customers. In the age of the customer, that means easy, convenient service that evolves as their needs may change.
The challenge is that contact center leaders and their front-line teams have a lot of work to do behind the scenes with infrastructure, processes, and delivery to make it as seamless as possible to the customer. So how do contact center technologies help?
A Forrester report--Vendors Battle for the Heart of the Contact Center--examines these challenges and technologies that solve them.
Download this complimentary Forrester report to learn:
How can evolving technologies improve CX and contact center operations?

What are the three sets of technologies for effective customer service?

What four key trends will make you rethink your vendor strategy?
This report helps you uncover technologies in heart of the contact center that can help move your enterprise from a complex infrastructure to a deeply integrated, quality-focused operation.
Get your complimentary copy of this report now.