A very important trend is occurring that will significantly impact how you engage your customer throughout their lifecycle.

Messaging apps are rising in tandem with adjacent technologies such as artificial intelligence to create a new interface that will change how we interact with each other, our connected environment and with brands.
This trend is already creating a challenge...and gaps...for how you market, sell and support your customers.
A new report--The Future of Messaging Apps--unpacks this trend and these new interfaces.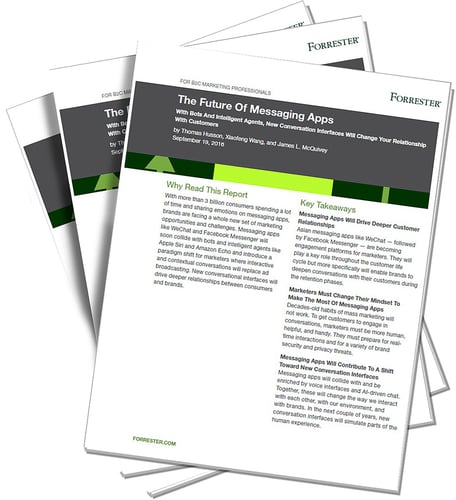 Download this free Forrester report to learn:
Why are messaging apps so important?

How will messaging apps will deepen relationships with customers?

What happens when messaging apps, voice interfaces and AI collide?
If you need help to define your plan to deliver smart, contextual, conversational mobile experiences that provide useful services to your customers, then this report is for you.
Get your free copy of this report now.