Chatbots help users complete tasks using a conversational interface (the chat part) and a smart application (the bot part).

But building a chatbot is tricky.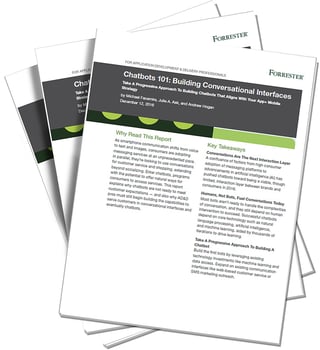 It's even tricky to get started because of confusing terms and definitions.
To help you build a rock solid understanding of the basics, we are offering this free Forrester report: Chatbot 101: Building Conversational Interfaces.
By reading this report you will learn:
What need chabots fill

When, or if, chatbots will replace humans and apps

The 6 components of a chatbot

How to pursue chatbots
We read a lot of reports and articles on chatbots and this one is a standout for its clarity. We highly recommend you download the 17 page report and read it today.
Get your free copy of this report now.