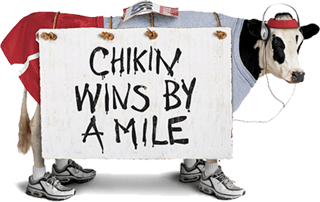 The two cows were standing next to a cage, with a scary, red-eyed, beast inside. The caption above the cage warned: "Eat Chikin, or Weel let this thing out."
I don't know about you, but I usually don't pay attention to highway billboards. But this Chic-fil-a billboard was quirky. It caught my attention, made me smile, and perked me up on an otherwise dull commute.
What I like about the renegade cows on the Chick-fil-a billboard, is that they are rebels, but not in the conventional sense of being rebellious. They're rebels in a humorous sense, in an empathetic way of appealing to people to eat more chicken. That sort of brand experience is contagious. It resonates with people, seduces them, and connects with them on an emotional level.
Figuring out how to make mobile customers happy is at the heart of what it takes to keep digital consumers engaged. Here's why. 87% of consumers use the internet, according to Global Web Index. And, 68% of these digital consumers access the internet through mobile devices, according to the experts at Pew Research.
Something else worth noting: Traffic from mobile devices now accounts for nearly 50 percent of overall online retail traffic in the U.S., according to IBM Digital Analytics Benchmark. Additionally, mobile commerce accounts for more than 20 percent of all online sales, up 35 percent over last year.
Here's the thing about mobile consumers. They want to engage with your brand at their convenience, not yours. They expect highly personalized experiences, customized to their needs. And, over 70 percent will take their business elsewhere, if you don't meet their expectations, according to our research.
If you want to attract mobile customers who are loyal, engage them in a way that deserves loyalty. The best time to do that is when they need assistance, when they want to make a purchase, track a delivery, schedule an appointment, apply for a credit card, whatever. If you're not available at those moments in the customer journey, or if you make it inconvenient for people to get the help they need, it's a loyalty killer.
In the past, it was easy to blame the contact center for customer dissatisfaction, because traditionally that's where customer care responsibility lies. But the digital economy is different. Customer care isn't just a contact center problem anymore. It's bigger than that. Customer care happens whenever customers interact with your brand, which can be at any point in the customer journey.
That's the beauty of My:Time from Contact Solutions. It allows you to start, stop and resume brand interactions, whenever and however it's convenient for you. If you fire up your laptop to apply for a credit card online, and get interrupted in the middle of your chat session, My:Time will remember your interaction history, and allow you to continue your conversation hours or days later – exactly where you left off -- via the app on another web-enabled device.
Unfortunately, most mobile apps aren't that user-friendly. They offer notoriously inconsistent, impersonal, and fractured interactions with users. If you need assistance, they force you to stop what you're doing, exit the app, and make an old-school, toll-free phone call, or wait on hold for an agent who probably has no idea why you're calling, or what you were doing before you needed help. That's not engaging.
But nothing undermines customer loyalty more than cumulative bad experiences across multiple platforms, over time. Yet, numerous organizations continue to bet on customer care as a phone call at the tail end of the buyer journey.
What it comes down to is this. In today's fiercely competitive digital economy, fitting into the conventional customer care box does you little good. Nope. To compete and win, you have to make the leap. You have to embrace the lifestyle of digital consumers, instead of sticking with the status quo. In a word, to succeed is to be rebellious -- like the renegade cows on a Chic-fil-a billboard.