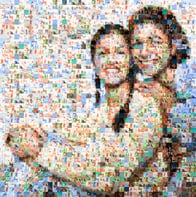 Enterprise contact centers play a key role in digital consumer engagement strategies. Enterprises need first to empower customers, and secondly to ensure that their customer care representatives are able to take up the conversations that have begun via digital channels. They'll need to understand that these conversations are no longer one-off quick fixes; they're part of an ongoing effort to build a better and more sustainable relationship with the customer over time, like tiles that make up a larger mosaic.
Not a surprise, but calling a contact center may not be the first choice for consumers when they need assistance; many prefer to take a self-service, digital approach. For example, consumers who prefer messaging vs. phone calls have more of a tendency to use self-directed digital channels to meet their needs.
Tip 1: Contextual self-service in the mobile world must empower consumers: customers can take action how they need to and get information they need quickly on their own without engaging with a representative (unless they want to).
Enterprises should be savvy about which type of interaction is the best fit for self-service. Since they are most cost effective, and more consumers are showing preference for them, self-directed engagements are self-empowering and a natural fit for routine tasks.
Contextual Self-Service Secret Sauce
When adding the element of contextual self-service, consumers can be offered up information and solutions based on what they need, without a representative needing to be engaged. This natural extension of traditional self-service evolves the customer interaction into a more enhanced self-help experience. Delivering this within the consumer's digital channel of choice, makes the interaction even sweeter. Contact center representative interactions can then even more so be reserved for more complicated consumer interactions that require in-depth help.
Truthfully, consumers don't want help brushing their teeth. They like the idea of self-service.You wouldn't hire an oral surgeon to brush your teeth for you. Why pay a contact center representative to help consumers change their address or resolve simple issues when they can easily do it themselves via self-service channels?
Tip 2: Digital agent interactions should support contextual self-service not act alone, and when offered, be available and flexible to respond how consumer prefers crossing the mobile devices and modes they choose.
Establishing a connection with consumers by responding knowledgeably and proactively when they chose to message with you, and doing so on their time, is a winning combination for your customers.
Customers who decide to message with your agents really don't want to rehash their issues or questions, and get YOU up to speed. They want you to naturally understand, because you have the tools and data to know what they've been doing and respond in kind. By doing so, you are meeting your customers' needs in a more timely manner that provides intelligence back to them.
Actionable analytics in digital messaging works both ways.
Your enterprise is empowered with insights and knowledge to appropriately respond
Your customers receive new and helpful information back to quickly make decisions and solve their issues.
Now What?
Both self-service channels and agent interactions are important. For every moment of need, help must be easy to find, offered to customers in the context of what they are doing, and seamless, in order to help them quickly get to where they need.
In 2014, for the first time, web channels superseded voice when consumers had their choice of channel to interact with customer service representatives.1 As this data from Forrester Customer Life Cycle and Customer Experience surveys2 show, self-service channels showed double-digit growth in adoption percentage in nearly all channels:
| | | |
| --- | --- | --- |
| Type of Channel | Percentage of US online adults who used this channel in 2012* | Percentage of US online adults who used this channel in 2014 |
| FAQ on company website | 67% | 76% |
| Contact center/agent via telephone | 73% | 73% |
| Online "virtual" agent | 28% | 43% |
| Self-service mobile app | N/A | 42% |
| SMS/Text company for help | 22% | 37% |
The principles that comprise an evolved digital consumer engagement strategy apply across industries. While specific verticals might require tweaks for their consumer bases, the main idea remains the same across enterprise types: persistent digital engagement with context works.
Read how digital persistence wins in this new whitepaper >
-----------------------------------
Footnotes:
Leggett, K. a. (2015). Contact Centers Must Go Digital or Die. Cambridge: Forrester Research Inc.

Source: Forrester's North American Consumer Technographics Customer Life Cycle Survey 2, 2014; *Source: Forrester's North American Technographics Customer Experience Online Survey, Q4 2012 (US)