So in today's digital world, which is your customers' preferred way to interact with your company?
Is it…
A mobile app?
Web self-service?
Social media?
Email?
Give up?
It's none of the above.
All generations of consumers prefer interacting with brands via the phone or in-person in a store over any other channel.
Surprised?
We were, too. But there's a lot more to the story.
Balancing Human-Digital Interactions
In the latest Verint white paper, "The Digital Tipping Point: How do organizations balance the demands for digital and human customer service?" we seek to answer the question: how do businesses get the balance right between digital and human customer service?
To do this, Verint contracted Opinium Research, a UK-based research agency, to survey more than 24,000 respondents. Additionally, we polled more than 1,000 businesses as well.
That's more than 25,000 polled across 12 countries.
Here's a particularly interesting figure from the study:



As it turns out, today's consumers value human interaction as much as speed and convenience. Even Millennials, who are generally known for their love of mobile and instant gratification, want the combination of phone and in-store interactions.
Digital Prefence Is Coming
It becomes more interesting when we look a bit deeper at these preferences. The data shows an average of 34% of all groups prefer digital channels (email, web self-service, mobile app and social media) compared to 47% of all groups preferring human channels (phone and store). But when we look at the preference for digital channels across age segments we find:
Millennials - 49% prefer digital channels
Gen X - 40% prefer digital channels
Boomers - 27% prefer digital channels
Silent Gen - 20% prefer digital channels
So digital preference is coming and is not something that can be ignored. Human-digital balance is needed.
Importance of a Phone Number
Consider these additional findings from the survey, which overwhelmingly shows that brands must continue to invest in more interpersonal channels:
74 percent of overall respondents do not like dealing with companies that don't provide a phone number
The highest percentage? 83 percent in South Africa
The lowest? 64 percent in Germany
Think about that last bullet for a moment.
The lowest reported percentage, 64%—still well over half of customers surveyed—do not like to deal with organizations that do not provide a phone number.
Don't Take Humans Out Of Customer Service
Then, there's this: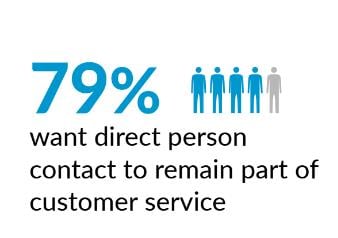 One thing is abundantly clear. A human element will be sticking around in customer service for a loooong time.
For more insights from this study, check out the digital tipping point infographic below. Click on the preview to see the full infographic.
And, look for more analysis of the report findings in future blog posts.