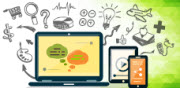 Our April webinar on digital context contained five new insights about where consumers are going and how best to engage them in this new world. During the live session, one attendee asked that we explain insight 2 in more detail. This post delivers on that promise.
Insight 2: Consumers surround themselves first, then make all sorts of

micro

purchases.
During the webinar our speakers explained that consumers rely on a queue to manage tasks, content, purchases and their day. A queue is a "thought-to-job interface that connects the person to multiple topics and tasks, creates the feeling of productivity and supports purchasing" per Stone Mantel.
Consumers engage with companies primarily through queues. A queue is a list of tasks or jobs-to-be-done that the consumer builds up. I build up a queue, for example, that includes driving to work, listening to a podcast, making phone calls, doing research, sending emails, buying a Mother's day gift on Amazon, listening to music, looking at the weather forecast, and lots more. Then I get home, watch a sports game, browse the web, look at team stats, look up recipes, and tweet.
A key point is that I will jump around in my queue and will not engage with one task for a long period. A company will, therefore, likely never have my full attention and, if they want to engage me, they'll need to master the queue.
Google recently released their perspective on queues, calling them micro-moments. Here is a great 97 second video that quickly shares the idea of micro-moments.
When the consumer in the video decides to do a task, they will go to a queue to buy, for example, a hair dryer. These micro-moments are how consumers are engaging with brands.
To be in the queue, Stone Mantel recommends:
Helping consumers to keep track of things is a first, simple step to take.
By understanding their queuing, you understand a lot about their behavior.
Anticipate the jobs they need done.
We also see customer care and servicing impacted by these micro-moments. Think about the way customer care is provided today: you must leave a queue to get help, you must dedicate a big chunk of time to solve a problem (nothing micro about it), and you must stay connected to only one task until the help is received. If you believe Google and Stone Mantel, then clearly a new customer servicing paradigm is needed.