Download this new Forrester Report: The Future of Messaging Apps
I recently downloaded two apps onto my Samsung 6S phone: Google Allo and TalkType. Allo is an intelligent agent (Google Assistant) that resides in the Google messaging app (Allo). TalkType is a voice interface that allows you to use voice as the primary interface and input (the keyboard becomes secondary) for "typing" a message in any app.

Voice-First Interface
TalkType is developed by Baidu Research, which is led by Chief Scientist Dr. Andrew Ng, a leading ML and deep learning expert. (Andrew Ng is one to follow). It is a "voice-first interface."
One thing that is amazing is that TalkType use Deep Speech—a speech recognition system—that can be nearly 3x faster and even more accurate than typing. My experience using TalkType is that, although it has a few kinks, it is easy and fast for certain use cases. I can see that voice interfaces, like TalkType, is where user interfaces are headed.
AI-Powered Messaging App
Over the past few years we've come to understand the mobile mind shift and the need to engage customers in their micro-moments. Now we are seeing a new paradigm shift by consumers as they adopt messaging apps and intelligent agents. Google Allo highlights this trend.
Google Allo is a test bed for its personal intelligent agent powered by machine learning (remember Google is moving past being a mobile-first company into being an AI-first company). What amazes me playing around with Allo is that messaging embedded with AI makes getting things done very easy. Through a single UI I can do many of my daily tasks with much less effort.
The messaging channel is becoming so smart and useful that this is likely the place where I, as a consumer, spend my most of my time. And it is so more effortless and a better experience that I want to self-serve instead involving an agent when I need help.
Engagement Paradigm Shift
The move to messaging apps, intelligent agents and voice interface has started. Messaging channels are set to become very smart. And for businesses that want to engage consumers, it's not an option to sit this shift out.
This paradigm shift, we believe, will have broader and deeper implications to the enterprise's marketing, customer service and sales functions than the mobile shift has had.
Free Forrester Report
To help you understand these trends and the impact they will have on your business, we recommend reading this 19 page Forrester report "The Future of Messaging Apps" (free for you to download for a limited time).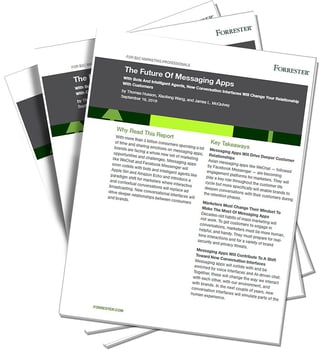 In this report you will learn:
Why messaging apps are the so important
How messaging apps will deepen relationships with customers
What happens with messaging apps, voice interfaces and AI collide
Forrester says "with bots and intelligent agents, new conversation interfaces will change your relationship with customers." We see the change coming fast. Our clients are already starting to take action and use this new technology to build stronger business-consumer relationships.