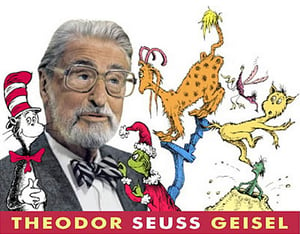 Happy birthday Dr. Seuss!
To mark the occasion—and because we like goofy fun every once in a while—let's envision how Dr. Suess might have addressed digital engagement!
We hope you enjoy reading this as much as we enjoyed writing it!
Seusstastic Digital Engagement
It used to be easy way back in the day.
Engage with your customer. Help make them stay.
But then something happened. Just ask the whole cast!
Things got all digital. And it happened so fast.
What used to be simple and easy and fun,
Got complex and difficult. Customers won!
Control left the business. It's owned by the masses,
They buy on their smartphones and work off their asses.
To get to them now, you have to be ready.
You have to be genuine, cool with spaghetti...
Or, anything else that your customer wants.
Like ice cream or puppies or snigglebee stunts.
You have to have mobile. It really starts there.
A website that's helpful alone is too bare.
Don't forget any channel, for channels are key
To letting the customer choose how to be.
But channels? Not everything. No, not at all.
Have focus on other things: text and to call.
You can wrap it up nicely all in a sweet app
But beware that the answer is not such a snap.
You must address moments. The ones that are tiny.
Micro in nature with context so shiny.
But wait! There is more! It never does end.
You have to stay on top of everything when…
Your customer wants it or needs it or says…
I'd like to have coffee with President Fez.
OK, that's not likely. And nor would it fly.
To grant such an audience with not a buy.
Digital engagement is all about you!
The customer, buyer, and how you get through.
So they will engage no matter your name.
Whether famous or nameless or Bobby McFlayme.
Yes digital engagement is now on the loose.
I wonder how Theo would see it, Doc Seuss!
So you ought not to wait 'till the first of Octember
To download our paper, some digital tender!