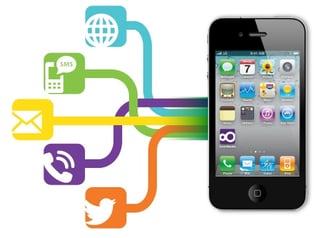 What would happen if you woke up tomorrow morning and realized you were spending millions of dollars trying to solve the wrong problem?
Omnichannel retailing is all the rage, and rightfully so. In this world of sensory overload and mixed messages, consumers will no doubt take comfort in retailers who provide a consistent (and good) experience across all points of customer interaction. Omnichannel eliminates confusion and breeds familiarity, which is good for the retailer's brand.
When we consider where customer care fits in the mix of "all points of customer interaction" it's no mystery why omnichannel customer care entered the conversation hot on the heels of omnichannel retailing. Customer care and customer service comprise a good number of customer interaction points, including for many enterprises some of the highest volume customer interaction points of all.
Today's multichannel contact centers weren't built from scratch. They grew organically. As consumers demanded new ways to interact with the enterprise, the enterprise added new channels to the contact center. This created silos. It's very difficult to sort out a consumer's interactions across the web, the phone, emails, and mobile apps. Tying all that data together is a complex and expensive undertaking- not to mention the immense effort required to create a similar customer experience across each of those disparate customer care channels. That's the challenge of omnichannel customer care.
Omnichannel Customer Care is Dead on Arrival
Despite the omnichannel hype in the customer care industry and the millions spent by many enterprises trying to make it a reality, maybe it's time to admit this approach isn't working out too well. Breaking down silos, integrating data collection points, and creating uniform customer experiences in contact center infrastructure that wasn't really designed for all that is a monumental challenge. In fact, it's probably the most expensive and most difficult way possible to solve the omnichannel customer care problem.
What if there were an easier way to solve the problem? Or better yet, what if you could achieve your omnichannel customer care objective by solving a different problem?
Omnichannel is Mobile. Mobile is Omnichannel.
The premise of omnichannel customer care depends entirely on the consumer's desire to hop from channel to channel. We all clearly observe consumer channel hopping behavior today. A customer, for example, might start an interaction on the web, hop off the computer and pick up the phone to call the contact center, then get interrupted, hang up, and call back later on their mobile from their kids' soccer game when they get frustrated trying to get their issue resolved in your mobile app.
But do consumers really want to hop from channel to channel to get assistance? Maybe they're just seeking convenience, and enterprises aren't yet delivering a customer care solution that makes channel hopping unnecessary. In fact, evidence is mounting that consumers are already starting to head in a common direction that has the potential to dramatically reduce channel hopping. And if that is indeed the case, the basic premise underlying today's approach to omnichannel customer care is flawed. It's time to stop and think about a different approach. Consider this:
Today, 70% of customer service calls originate from mobile phones. Two-thirds of those are smartphones. Your customers are already mobile, and most of them are already calling you from their smartphones.
Since January 2014, internet traffic from mobile apps has surpassed the internet traffic originating from personal computers. To be clear, that's mobile

app

traffic alone exceeding PC traffic. Total mobile internet traffic has exceeded PC internet traffic for some time now. Your customers are already hooked on mobile apps. If they're not already hooked on yours, your customer care delivery is not aligned with their preferred behavior.
By 2015, according to a recent Gartner report, you should assume that at least 60% of Internet users (i.e. virtually everybody) will opt for a mobile app as their first choice for customer service. Your mobile app won't just be the preferred channel for customer service; it will be the dominant channel for customer service.
Consumers Are Extending a Helping Hand
It's pretty clear from today's behavior that consumers are heading in a common direction, and that's mobile. While you're spending millions trying to break down silos and create a common experience to achieve omnichannel customer care, consumers may in fact be extending a hand to help you solve this difficult problem. How cool is that?
As mobile behavior leads consumers to converge naturally on a single channel for customer care,
Customer interaction data increasingly collects in one place
Customer experience grows inherently consistent as their interactions converge on the dominant channel.
Widespread adoption of mobile and the resulting changes in consumer behavior are making your pursuit of omnichannel far easier… if you choose to solve the right problem.
Long Live Omnichannel
Mobile will become the dominant channel for customer care, and it's going to happen sooner than you think. Through this change of behavior, consumers are extending a helping hand to solve the omnichannel customer care problem. And, based on the statistics above, they're already more than half way there. If you want to take an easier path to omnichannel, you just need to step up and take it the rest of the way. Here's how:
Focus on a mobile customer care solution that leverages the power of the smartphone and the cloud
Make sure your mobile strategy always includes mobile care so you don't create fractured experiences.
Design an experience that fits the mobile lifestyle, not an experience that's the least common denominator across all your channels.
Create a mobile care experience that's the only customer care experience your customers will ever need. Make it so good they have every incentive to stay within the mobile channel.
That's still a lot of work if you are starting from scratch, but heading in a direction that's consistent with today's consumer behavior certainly simplifies the problem. Your customers are already mobile, and they're leading you towards an omnichannel solution that's better, faster, cheaper, and easier. Take advantage of it and change your approach to omnichannel customer care.