A question we frequently are asked is "how does age effect mobile phone use?" Or will my older customer use whatever mobile strategy I develop?
Below is a look at current demographic data for smartphones based on Pew Research and Forrester Research data. While your customer base may behave differently, these data show that across the population at large, millennials are hardly alone in their avvid use of smarphones.
For every 100 young people that own a smartphone, 66 boomers have one
For every 100 young people that use apps, 74 boomers use apps
For every 100 young people that text, 93 boomers text (and we don't drive while we do it!)
Our experience from live deployments tells us:
Older generations love a great mobile experience as much as younger generations do.
Smartphone Ownership Demographics
Percent Ownership by Income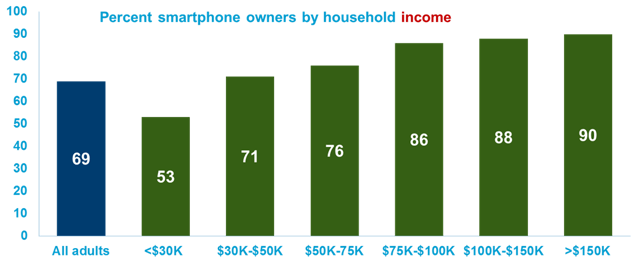 Percent Ownership by Education Level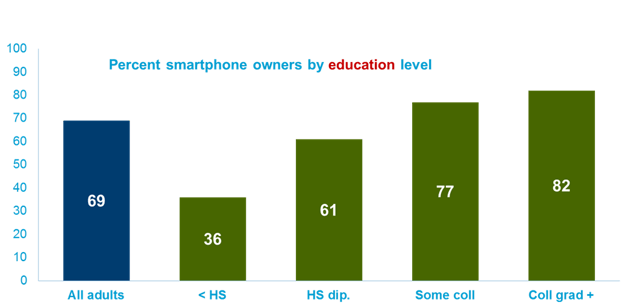 Percent Ownership by Race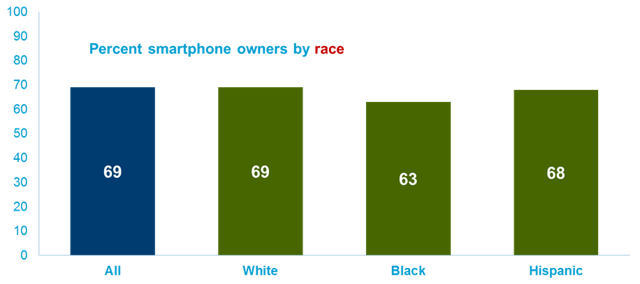 Percent Ownership by Age

Use of Smartphone
Texting by Age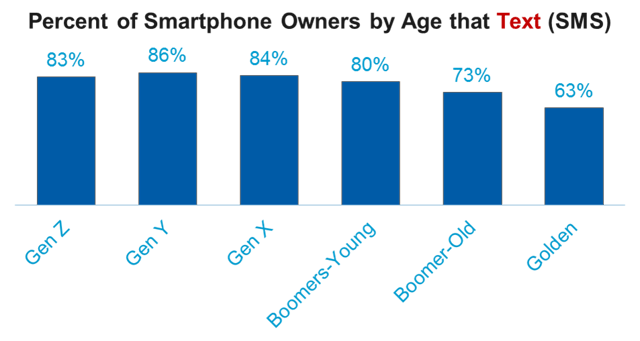 Email (on mobile) Use by Age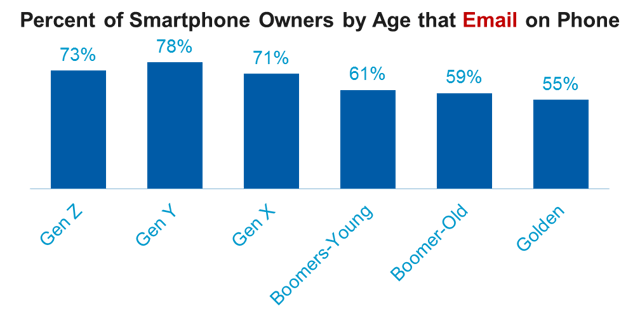 Mobile App Use by Age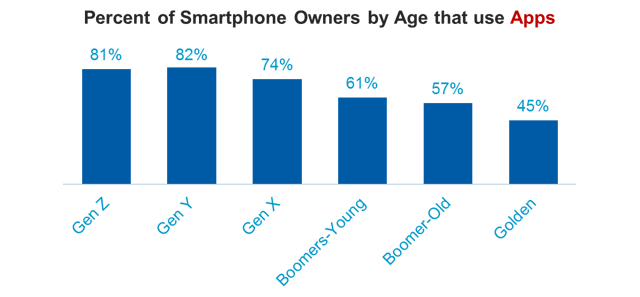 Instant Messaging Use by Age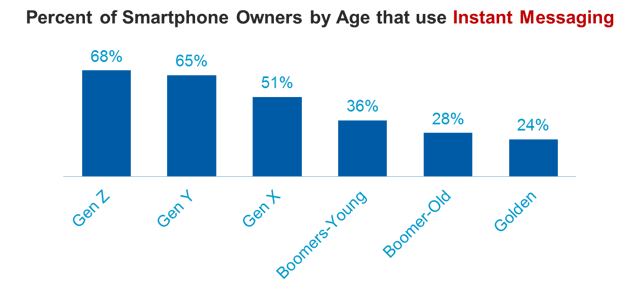 Our Experience: Older Demographics Love My:Time
We conduct surveys and agent focus groups to gather feedback on how our My:Time mobile engagement solution works for our customers. Here is some of the feedback we've heard from the boomers and beyond:
"Sending voice notes is easier for our older customers." – My:Time contact center agent
"Very user friendly for someone a bit older" – Customer using My:Time
"My:Time keeps us current with the times. If I can't do it from my cell phone I probably am not going to do it, and that's how our customers feel as well." – My:Time contact center agent
Agents think their demographic for My:Time is anywhere from 20's – 60's. The older generation likes My:Time because they can take their time, etc.
Older customers are asking them how to download it. Said it was better than their feedback on other ways to reach customer service. Customers hate waiting on hold on the phone, they hate the hold music.
Feedback from customers with hearing impairment (relay calls through third party). They have found that customers who normally use relay calls "prefer My:Time because it makes it easier to manage their account at their own pace without worrying about phone communication."
"It is so easy to use because everyone texts nowadays" – My:Time contact center agent
"I have ALS and can't speak!! I love this app" – Customer using My:Time
"Glad you guys caught up with today's technology. Love it!" - Customer using My:Time
Data sources:
Digital Divides 2016, Pew Research Center, July 2016
Mobile Messaging: Catalyst And Core Channel For Commerce, Forrester, May 23, 2016