Contact centers in North America employ seven percent of the total workforce with over three million total staff. (Texas is top state with over 250,000 people working in contact centers).
We also know agents are 50 percent of total contact center costs. And that puts agents in the cross-hairs when you're optimizing operations.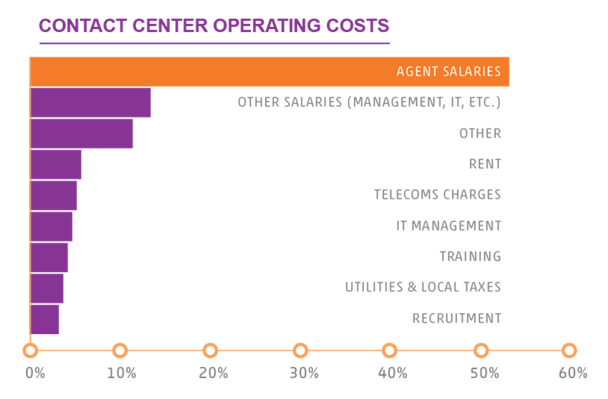 So when we blogged about a 29% cost reduction through the use of chatbots and other smart technologies, it raised a deeper question.
Are Human Agents Required for Digital Engagement?
To answer that question, we looked at a recent Verint study that suggests that when it comes to customer service, good old-fashioned human interaction may still be best.
Companies are providing consumers with increasingly sophisticated digital tools to service the customer through all phases of their journey. Despite these investments in digital engagement, 52 percent of U.S. adults are likely to abandon their online purchases if they cannot find quick answers to their questions, according to Forrester.
The Verint survey of 24,000 consumers in twelve countries showed that all consumers, even digital natives, prefer more human interaction when it comes to customer service. The research indicates that organizations that rely too much on digital channels risk missing out on ongoing and meaningful relationships with customers.
Customer Care in the Age of Digital Engagement
Several findings from the survey are particularly important for customer care in the age of the consumer:
Consumers who receive more "human" customer service display more positive behaviors toward brands
Providing a strong customer experience correlates to consumers displaying positive and valuable behaviors towards a brand after engagement. In today's age of social media and online reviews, this is critical.
Consumers with a good customer service experience are:
38 percent more likely to renew their product or service even if it isn't the cheapest option
27 percent more likely to sign up for an organization's loyalty program
19 percent more likely leave a positive review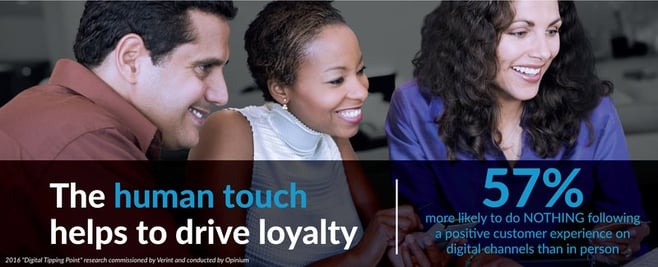 Interestingly, consumers are 57 percent more likely to do nothing following a positive experience on digital channels versus an in-person visit. Investments in that human element pay off with more valuable relationships between brands and consumers.
Consumers want a human service element as part of their buying journey
Consumers are embracing new technologies, services and experiences faster than ever before, but the digital buying journey hasn't been embraced fully. 67 percent of consumers believe that service online and via mobile devices should be "faster, more intuitive and better able" to serve their needs.
Even with multiple channels available today, consumers still prefer traditional communication methods to interact with organizations for customer service: 24 percent of consumers want to pick up the phone and 23 percent want to go in-store for customer service. Only 3 percent of consumers want to interact via social media and 9 percent via mobile apps.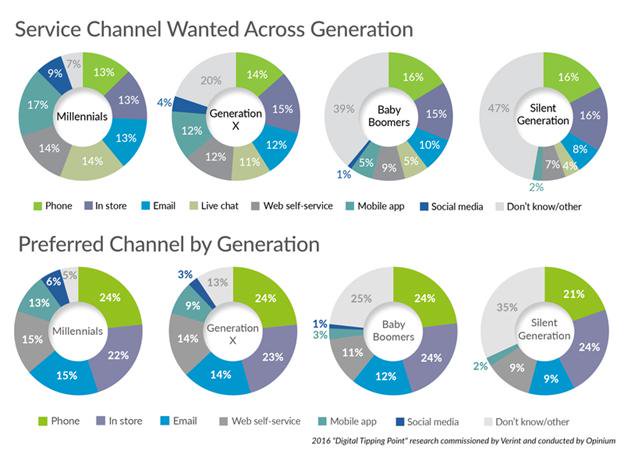 Generationally, even "digital natives" – millennials and Gen X – say that they prefer the phone and email channels. Millennials use social media more than any other generation but only 6 percent indicated it was their preferred channel for customer service.
The complexity of the request heavily influences whether a customer will choose a digital or traditional service channel
To handle simple requests, consumers (67%) tend to pick digital channels. For anything urgent, they pick the phone. Additionally, 67 percent of consumers believe it is more convenient and they have a better experience when engaging with organizations in-store and on the phone.
Interacting with a brand, particularly for more complicated purchases, requires convenience, context, empathy, emotional intelligence and an ability to process broad sets of information. This can be difficult to provide through a fully digital experience.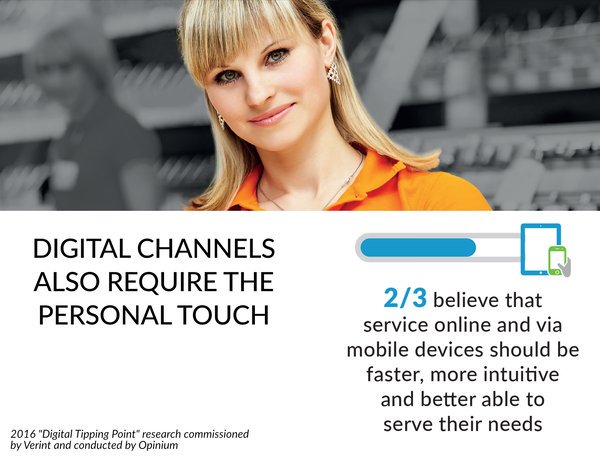 Rethink a 100% Digitization of Customer Service
Companies must continue to weigh the mix of digital and traditional elements offered to customers along their journey. By minimizing or removing a human customer service option altogether, organizations are missing an opportunity to provide consumers with a more efficient experience, which will lead to greater customer loyalty.
So, yes humans are required for digital customer engagement.