As you look to drive digital transformation within your business, we believe the customer service function can help drive and support your goals. But not what you think of as customer service today. Let's look at the ways "digital servicing" can help you achieve your breakthrough business goals.
It's good to keep in mind, as Gartner points out, that digital is a tool to build a deeper connection with your customers. At its core, digital is engagement. So customer servicing fits perfectly into the larger goals of transformation.
A "nonintegrated digital business" is an oxymoron. Digitalization does give organizations an opportunity to establish personalized and responsive relationships by enabling "right-time" integration with their constituents via social media, business networks, mobile applications and APIs. (Source: View Key Insights CIO Call to Action: Shake Up Your Integration Strategy to Enable Digital Transformation, 26 November 2015, Gartner)
Digital Technologies
Digital tools include mobile, analytics, social, cloud and other technologies. Many of these are already being deployed by the enterprise and its contact center. Our experience is that contact centers deploy these technologies as silos with the objective of improving operational efficiencies. And while that works to some degree, a transformative is rarely achieved.
But the real power of digital technologies is not the individual technologies but in how a company integrates them to transform their business and how it works. It's a transformation story that includes technology.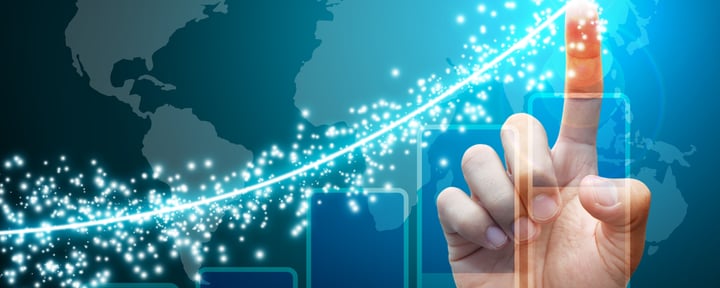 The objectives of a digital strategy include:
Improve customer experience
Increase efficiencies
Improve business decision making
Improve innovation
Transform the business
Improving CX and efficiencies are objectives of less mature organizations, whereas business transformation is an objective of the more mature firms. (Source Strategy, not Technology, Drives Digital Transformation, MIT Sloan Research Report, Summer 2015).
So let's apply one of these digital customer care technologies and to see if we can develop a strategically potent ends. For our example, we will use mobile customer care. As we explained in this blog, mobile customer care is really digital engagement since it can be used at any point in the digital journey where a customer needs help or struggles.
We encourage you to start with a blank slate and reimagine the customer servicing function in a future state of a completely immersive experience.

How Mobile Customer Care Impacts 5 Digital Strategy Objectives
A mobile customer care function like My:Time™ is embedded in the app and into the mobile web.
Improve customer experience. The customer is able to self-service and message an agent without leaving the branded app or mobile website. The experience is improved significantly over the customer calling an 800 number or emailing or even chatting.
Increase efficiencies. Digital customers have a proclivity to attempt to (1) get their tasks done using self-service first and if that doesn't work they (2) want to message with an agent. Mobile customer care supports these preferences and will increase self-service rates (lowering costs) and message with an agent over a phone call (lowering costs). The result, even without much process improvement, is lower cost to support the customer base.
Improve business decision making. One of the key features of Mobile Customer Care includes analytics and machine learning. As an example, we track all interaction and transaction points in our MyTime solution. When then use a team of data scientists and business analysts to extract valuable insights from these data.
Our team then makes recommendations to our clients on how to improve their mobile servicing function. For example, our analysis might recommend that our client could improve self-service rates by adding a certain function to the app. Business decision making is improved by providing actionable insights.
Improve innovation. Mobile Customer Care provides a digital toolkit for the strategist that they did not have prior. It enables a customer to be engaged with in new and novel ways. What if, to interact with a customer, we don't use a call center agent but any person who help the customer? For example, Marriott Hotels (not our client) has built a hotel concierge function into their app where you can request a towel or other item from the front desk using a messaging function. What you can do with Mobile Customer Care is wide open.
Transform the business. Customer servicing is an expensive function that is deeply rooted in operational frameworks. One thing we find exciting is that Mobile Customer Care can transform the servicing function as well as help transform the business. The innovators we have talked to understand the power that can be unleashed with mobile care and are starting to make moves to use it as a catalyst.
"Technology should be a means to a strategically potent ends." (Source: IT Doesn't Matter, Nicholas Cass, HBR, 2003)
A vision that creates transformation
We recommend when you're ready to transform the business you set a future vision then work back from there. Do not fall into the trap of focusing on technology over strategy.
Think bigger than operations. Rethink the business. Rethink customer care.
As you start to build a story of the value of digital technology to your organization's future, we encourage you to include the customer care function. We'd love to help you build that story.