The velocity of technological change is accelerating. New technologies are emerging that will reshape customer service as we know it today. Many of these technologies are being tested and even deployed as part of the contact center stack by leading companies. And these technologies are already driving significant benefits for early adopters.
Forrester Report
To help us understand these changes, Forrester Research recently released a report entitled "Plan Now For Customer Service In 2021. " This report (on our recommended reading list) explores five technologies that are expected to transform customer care over the next five years.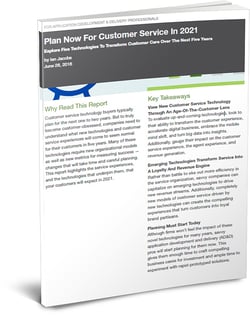 Forrester filtered through a long list of technologies to come up with what they consider the five which are most likely to be truly transformative ones.
These five technologies are:
Two-Way Video
Augmented And Virtual Reality
Virtual Assistants
Messaging
Connected Devices (IoT)
To assess the ability to transform and reshape customer care, Forrester uses an emerging tech framework to evaluate each technology. The tech evaluation framework looks at four dimensions: impact on age of the customer imperatives, impact on customer service, newness and complexity.
You can read the framework score of each technology in the report.
Forrester Emerging Tech Evaluation Framework
Forrester urges customer service leaders to understand these technologies by piloting, gaining hands-on experience and building the business case for moving forward. This is where we can help.
How We Can Help
Contact Solutions focuses on two of these technologies in our My:Time product: Virtual Assistants and Messaging. We have been actively working with leading customer services execs, like you, over the past three years to develop, test and deploy these technologies.
In our experience, many execs think moving into digital messaging and intelligence-driven automation is complex and difficult. But it is much easier than you may think. We've packaged easy to deploy test and pilot programs that make is simple to understand the business benefits and impacts these technologies will have on your operations.
Recommendations
Here are our recommendations:
Download and read the report
Understand why it is urgent to start piloting now
Talk to us (and subscribe to our blog) to get our insights on digital reshaping of customer service
Determine if a pilot makes sense (we can help you)
Test, learn and capture the future (we can help you)