Check out this roundup of perspectives and insights that cover digital, mobile, chatbots, AI, and similar topics with a focus on customer service and customer engagement. This is what I am reading, and I thought you might find it useful too!
Chatbots vs Humans in the Contact Center
"Two of the biggest trends in business today are heading on a collision course….On one hand, every major technology company is investing heavily in artificial intelligence (A.I.), promising a better, cheaper, and faster way to "engage" with consumers. "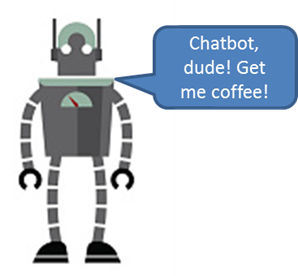 "By 2020, Gartner predicts that this type of intelligent automation will manage 85 percent of businesses' customer relationships…. On the other hand, most U.S. companies are actually increasing investment in employees who interact directly with consumers." So will chatbots replace humans? This VB article tells you who will win.
The Upcoming Battle Over AI Assistants
"The stage is set for the coming battle between the big five tech giants: Google, Apple, Facebook, Microsoft, and Amazon (wait, make that four tech giants and one really tech savvy retailer). All are now heavily investing in AI. All now offer personal AI assistants poised to make your life easier." Read the x.ai blog post here.
5 Technologies To Reshape Customer Service
The velocity of technological change is accelerating. New technologies are emerging that will reshape customer service as we know it today. Many of these technologies are being tested and even deployed as part of the contact center stack by leading companies. And these technologies are already driving significant benefits for early adopters.
Get this free Forrester report.
How to Improve Your Call Center Experience to Drive Business Results
"When consumers have questions, talking to a real person can be the easiest way to get answers. That's where a company's call center comes in. A personalized and relevant phone call can help you earn new customers and keep existing ones. Learn three ways your brand can provide a great caller experience." (Kind of interesting that Google is making recommendations to the contact center... worth reading though.)

Google says there are 3 pillars for providing a great caller experience-
Make calls part of a seamless online-to-offline experience
Optimize your call center for your most valuable callers
Use contextual signals to tailor the caller experience
Read more from Google here.
Empathetic Chatbots
"We're working toward providing empathy as a service to any voice or messaging platform," says cofounder Fraser Kelton. "We think that's a critical user experience for a world in which you're conversing with computers." The Fast Code Design story is here.
5 Reasons Chatbots Will Revolutionize the Way We Do Business
"What is the big deal about bots, and, more importantly, why should you use them?" This article says there are 5 reasons:
They deliver higher user engagement
They are 'mobile optimized' right out of the box
There are no downloads required
They benefit from the WhatsApp effect
They have minimal cost with maximum returns
Intelligent Assistance Redefines Self-Service
"In the age of bots, apps, interactive text response and other Conversational Commerce vehicles, a top challenge for customer service professionals has been anticipating and serving each customer's fast-changing expectations for self-service. To a large degree, customer expectations have kept pace with, and assimilated each new approach that technology advancements have made possible."
"While individuals can add new devices, apps (passwords for that matter), each entails incremental investment in development costs and staff time that tends to span multiple business units among brands and businesses." Read the blog post from Opus Research here.
Call Commerce
With all the buzz about self-service as the future, BIAKelsey provides a different perspective. "…Through all this, phone calls are becoming sexy again. For a device that is 150 years old, the phone is getting reinvented in the smartphone era. Bolted to a local search and discovery engine, it's creating all new opportunities for businesses of all sizes to drive and track leads. … Call commerce continues to be one of the most under-recognized areas of the smartphone era. As we keep saying, calls are the new click — influencing more than $1 trillion in U.S. consumer spending."
Got ideas for us to cover? Please let me know directly: mclark@contactsolutions.com