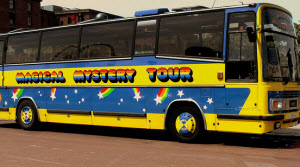 Working online… checking my phone (alerts/texts/emails/updates)… browsing online… browsing on my phone..texting… etc. Sound familiar? I'm just like the majority of adults engaging in the digital world we live in today.
Did you know:
Today, 87% of the population uses the internet, and of those internet users,
80% own a smartphone1, 68% of them access the internet through their mobile device2,
and 56% of them have made an online purchase in the last month1.
It's a bit like The Beatles song "Magical Mystery Tour" – as consumers we are "rolling up" for a tour with an organization (searching for information or products, checking accounts, signing up for something, or just passing through) – coming and going from many different channels and devices. And we never know what to expect.
Are we tracked and spammed to drive sales?
Are we ignored or forgotten – because no one's watching the digital "ride" we're on and may not even know we're there.
Are we being welcomed, nurtured, and invited to do more or get help, at our convenience?
Unfortunately, the last option is not the norm for most organizations today – so as consumers we are missing out on a valuable experience, and organizations are missing out on lucrative moments of interaction.
Let's face it, as a customer engagement influencer in an evolving organization (enterprise or government) there's a lot on your plate with limited resources (staff and budget), and priorities and projects are pushing you away from fundamental opportunities to meaningfully engage with your customers more than you are today. You may not even realize there are roadblocks to the "tour" your customers take with you because you are just too darned busy.
Imagine a world where you no longer need to focus on how to keep your customers, or keeping them happy, but instead on how to best continue engaging, serving, and selling more to them on any platform – web or mobile app. Ah, the "mystery" unfolds! As consumers we are simple creatures.
We have needs; we want solutions.
We have feelings; we want to be cared about.
We have concerns; we want to be heard.
Simple, right? Not exactly if you feel you need internal resources to evaluate your digital engagement processes and develop something better, and you think this issue is out of scope. Organizations that put these valuable customer moments on the shelf will soon learn they are further behind than they can manage, losing ground and value to the customers they serve.
So what's the answer for success? Anyone remember using those old AAA TripTik3 booklets before the internet and location mapping helped us out? Well, here's a "TripTik on Customer Engagement" to consider, mapped out by areas of expertise:
Digital strategists: You've got a handle on how you are evolving your digital presence, with digital projects up the wazoo. You may have chat offerings on your website and mobile web, FAQs, email, and phone options to serve customers in a variety of ways. But are these connected, and enabling a cross-channel interaction with a persistent, continuous experience? Is it the same solution, so you are working with disparate vendors? Is each one working independently, preventing your customers from choosing their path and continuing interactions from any device or digital channel where they previously left off? Food for thought.
Technology and Product leaders: Your teams are strapped with a long priority list of innovations, upgrades, maintenance projects. How does this customer engagement fit into your roadmap, and should it? Oh yeah! There are expert vendors out there today ready to take on the burden for you and bring you up to speed in cross-channel mobile and web engagement at a fraction of the cost it would be to put your own team on the project to design it yourself. With highly reliable, secure cloud-based platforms you can trust.
Marketing and Sales champions: Looking for differentiation and high customer satisfaction rates that jointly strengthen the value and loyalty of your customers? Persistent cross-channel digital customer engagement equals a seamless experience regardless of how or when your customers chose to interact with you. You can be there any time they chose, and your customers wouldn't have to start over or repeat themselves to get help they need from you. Think fantastic ratings, positive tweets, and social referrals. Jackpot!
CX and Contact Center experts: Solving your customers' issues is just the tip of the iceberg to what you manage. Your teams are an important commodity that satisfy, aid, and encourage opportunities to best serve these individuals. Optimizing your ability to provide a fantastic CX while improving staff productivity is achievable with the right tools. The ability to make this possible the way your customers prefer to interact – in a mobile manner – makes CX and results even greater for your customers and your representatives.
I'm betting there's a digital engagement solution out there that's right for you.
As I say to my son before he releases the ball..."Stop, count to five before you let the ball go, then send it to its target." Same holds true before you commit to a digital engagement strategy that may be missing the crucial customer moments.
In closing, enjoy the "Magical Mystery Tour" lyrics - reminisce a bit, and you'll see what I mean in correlation to our dance across devices, platforms, and customer engagement options.
"Magical Mystery Tour"4
[Roll up! Roll up for the magical mystery tour!
Step right this way!]
Roll up, roll up for the mystery tour
Roll up, roll up for the mystery tour
Roll up (And that's an invitation), roll up for the mystery tour
Roll up (To make a reservation), roll up for the mystery tour
The magical mystery tour is waiting to take you away
Waiting to take you away
Roll up, roll up for the mystery tour
Roll up, roll up for the mystery tour
Roll up (We've got everything you need), roll up for the mystery tour
Roll up (Satisfaction guaranteed), roll up for the mystery tour
The magical mystery tour is hoping to take you away
Hoping to take you away
Mystery trip
Aaaah... the magical mystery tour
Roll up, roll up for the mystery tour
Roll up (And that's an invitation), roll up for the mystery tour
Roll up (To make a reservation), roll up for the mystery tour
The magical mystery tour is coming to take you away
Coming to take you away
The magical mystery tour is dying to take you away
Dying to take you away, take you today
By the way, check out Contact Solutions latest digital customer engagement offering – persistent, contextual, cross-channel, and downright awesome!
Footnotes:
1 Global Web Index, Q4 2014.
2 The Web at 25 in the U.S. Pew Research Center Report. February 2014.
3. TRIPTIK is a trademark of AMERICAN AUTOMOBILE ASSOCIATION (INCORPORATED).
4. The Beatles, "Magical Mystery Tour." Writer(s): Richard Starkey, Paul McCartney, John Lennon, George Harrison. Copyright: Sony/ATV Tunes LLC, Northern Songs.