In this guest blog, Amy Stapleton from Opus Research outlines three ways Intelligent Assistance technologies can work for Marketing. The post is based on Amy's white paper, Six Perspectives on Intelligent Assistance, which is available at the end of this blog.
Intelligent Assistance Benefits Go Beyond Customer Care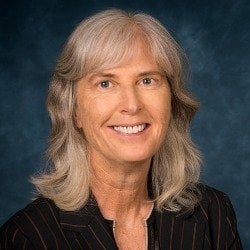 Customer care professionals have been leveraging the benefits of intelligent assistants and similar self-service technologies for many years. On the flip side, most marketing professionals didn't spend much time thinking about smart self-service solutions in the past. Self-service and marketing wandered down two separate paths. But with the 2016 "Facebook Messenger bot platform announcement" generating excitement around chatbots on messaging platforms, marketing executives are getting into the intelligent assistance game too.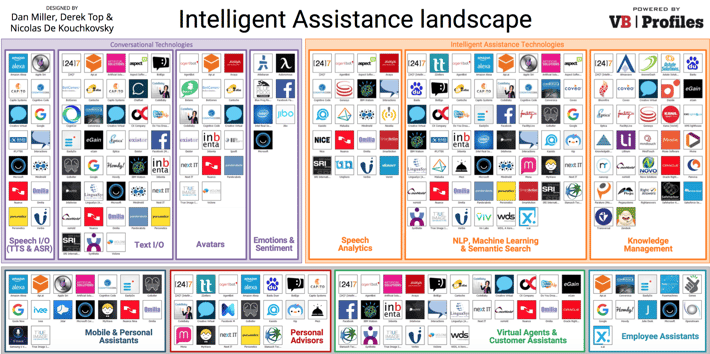 (Download the IA Landscape PDF)
Here at Opus Research, we have an opportunity to speak with both solution providers and many companies that have deployed, or are evaluating, intelligent assistants. The interest we're seeing from marketing departments in these technologies is real and well-founded.
There are many ways that brands can leverage the technologies underpinning intelligent assistance to support their marketing efforts. The conversational UI (CUI) empowers customers and prospects to interact with a company on their own terms and by using their own words.
I'll give you three ways that marketing departments can leverage intelligent assistance to boost brand awareness and promote customer loyalty.
Painless Self-Service Options = Customer Happiness
Offering a customer smart self-service options isn't just great for a brand's Customer Care division. Providing quick and painless answers to a customer's questions improves the customer's perception of the brand and makes them more likely to engage with the company in the future.
This is especially true if you give the customer access to self-service options across channels they prefer, such as mobile and messaging platforms. More and more, customers only want to make a phone call as a last resort. Happy customers refer brands to others, which is every marketer's dream.
Customer Data and Insights = More Effective Marketing
One often overlooked advantage of self-service solutions is their built-in ability to capture customer data. Conversations that customers have with web-based virtual agents, mobile assistants, or messaging-based chatbots are logged and analyzed. These conversations provide valuable information that savvy marketing professionals can utilize to gain key customer insights.
What are customers asking about?
Are there opportunities for new products or services that satisfy unmet customer needs?
Are there opportunities to clear up misunderstandings or remove obstacles that may be stalling purchases?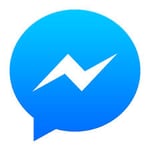 Data gleaned through self-service conversations can also be used to tailor service and product recommendations to a customer's preferences. Some companies are even using chatbots on platforms like Facebook Messenger and LINE to engage customers in surveys. Younger consumers seem to enjoy conversing with chatbots and answering their questions. These consumers are much more likely to participate in a chatbot survey than to click on a web link and fill out a traditional survey form.
Customer Conversations = New Promotional Opportunities
Offering customers one-on-one, personalized conversations opens a whole new world of opportunities for marketers to promote their products. Facebook now allows chatbots on its Messenger platform to send customers promotional offers. Brands can leverage this capability to directly communicate discounts or other offers specifically tailored to a particular customer. Customers can easily ignore the offer if they're not interested and are less likely to feel pestered than if they were to receive an unsolicited email or, even worse, an outbound marketing call.
Lionsgate promoted their movie Now You See Me 2 by creating a chatbot that offered consumers an immersive gaming experience. By engaging with the chatbot, users are enveloped in the movie's story and hopefully encouraged to see and purchase the film.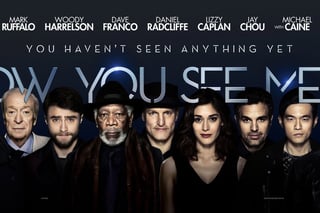 Creative marketers are likely to find many new effective ways to leverage the intelligent assistance channel to provide customers with offers that resonate and are well-received.
Intelligent Assistance for Marketers
In summary, intelligent assistant solutions are expanding beyond the realm of customer care and help desks. Marketing teams that are always on the lookout for new, effective ways to engage prospects and customers are already leveraging self-service solutions and channels to get their message out, attract new customers, and better understand existing clientele.
Amy Stapleton is an analyst with Opus Research writing about intelligent assistance and customer service technologies. Contact: astapleton@opusresearch.net, @VAchatblog