Are you ready to invest in AI technologies to drive contact center performance?
My guess is that you already have.
You might have deployed speech analytics or an IVR using natural language or a Chatbot or fraud prevention. All these solutions likely use machine learning and artificial intelligence to discover insights and optimize performance.
Good job.
But the AI landscape is buzzing with emerging tech that could have major implications on customer service. Yes, some technologies will optimize existing processes (like IVR self-service) but others will be disruptive to your current processes (like Chatbots over a messaging app).
You're going to invest (more) in AI technologies for customer service.
The only questions are when, on what solutions, and how much.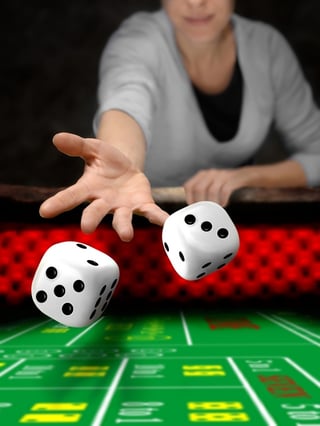 To answer these questions, lets take a broad view of how the AI landscape is developing and look for trends and patterns.
The Artificial Intelligence Landscape
We track (and participate) in the Artificial Intelligence (AI) landscape because it is going to deeply impact customer service and contact center operations for the better. We track the AI landscape because:
The potential for AI to impact the customer service function is very high
AI is moving very quickly
AI can be very technical so it's important to understand the industry-level trends
There are some very creative applications of AI that we can learn from
In this post, we've compiled AI landscapes published by various authors and provide links to sites where you can explore more.
Let's examine these AI landscapes and ask:
Where is investment money flowing and what segments are hot?
What problems are being addressed?
What are the different approaches to solving the problem?
Where is the disruption happening (processes, business models, products)?
Who is seeing things differently?
What is going on at the edges (or what are the crazy people doing)?
AI Landscape Segments
A common way to view the landscape is by grouping AI into segments such as:
Core technologies (machine learning platforms, NLU, IOT, etc.)
Industry-specific products (health care, finance, etc.)
Domain-specific products (customer service, sales, etc.)

AI products also address more specific customer service functions like self-service, speech interfaces, routing, KM, etc.
Landscapes focused on Chatbots, for example, will look at the core technologies, platforms, and frameworks needed for Chatbots.
So let's investigate the AI landscape and see where the bets are being placed.
Machine Intelligence 3.0
This landscape view is published by BloombergBeta, a VC investor.
(You can read why they use machine intelligence instead of artificial intelligence here.)
As background, BloombergBeta has "invested in 35 machine intelligence companies solving 35 meaningful problems in areas from security to recruiting to software development." They have "tried to capture the most-important startups in the space in a one-page landscape."
These guys are making bets.
Based on this landscape you can infer that BloomBeta believes disruption is likely in:
Machine Intelligence will disrupt these enterprise functions:
customer support
sales
marketing
security
recruiting
Machine Intelligence will disrupt these industries:
Agriculture
Education
Investment
Legal
Logistics
Materials
Retail
Finance
Health care
Takeaways: Investors believe customer service is a disruptable enterprise function. Take a look at some of the companies and their use cases to so see what disruption looks like.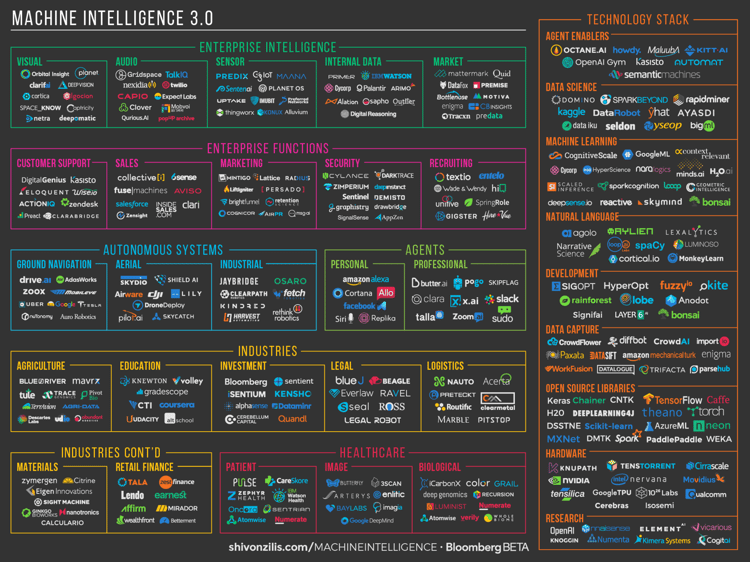 Source: Machine Intelligence 3.0, Shivon Zilis
Machine Learning Application Environment
The Machine Intelligence 3.0 landscape above had a segment called hardware. Hardware is actually incredibly important to machine learning as the amount of computing resources needed to build and run AI is significant.
(Read "Inside Facebook's Artificial Intelligence Engine Room" for a great view on AI hardware.)
Moor Insights and Strategy is a technology analyst and advisory firm that has a published an AI landscape based on applications and required hardware to make machine learning apps run.
MI&S says machine learning apps are starting to move out of cloud deployments where they support internal enterprise functions (including web) to edge devices. So "smarts" is being embedded in devices and things (IOT).
This view of the landscape is not one you typically find,so I recommend you their blog on this topic and download their report.
Two takeaways from the MI&S report:
When you implement machine learning in your contact center applications, you might need much better IT resources.
Smarter devices (with ML embedded) will also have an impact on customer service processes as more IOT-based context becomes part of the experience.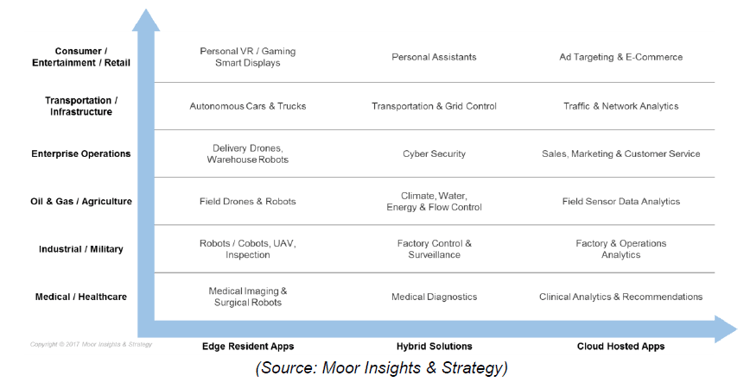 Source: A Machine Learning Application Landscape, Moor Insights and Strategy
Top 100 AI Startups
CB Insights (tech market insights company) published a list of 100 of the most promising private companies applying artificial intelligence algorithms across industries in January 2017. They ranked 500 companies and choose the top100 for the AI Landscape of top 100 Startups.
According to CB Insights, "The startups have raised $3.8B in aggregate funding across 263 deals since 2012, and include startups at different investment stages of development, from seed/angel companies to well-funded unicorns." (Big bets are being made!)
CB Insights also segments the ecosystem in technologies, functions and industries. The customer service function is included in the AD, Sales, CRM segment. AI/Bots also covers technology with direct application to servicing.
Takeaway: There is an amazing level of investment and energy flowing into these AI companies. These startups are looking at challenges like customer service with fresh, anything-is-possible perspective. You've got to watch these 100 companies: they will directly or indirectly impact how help and service is provided.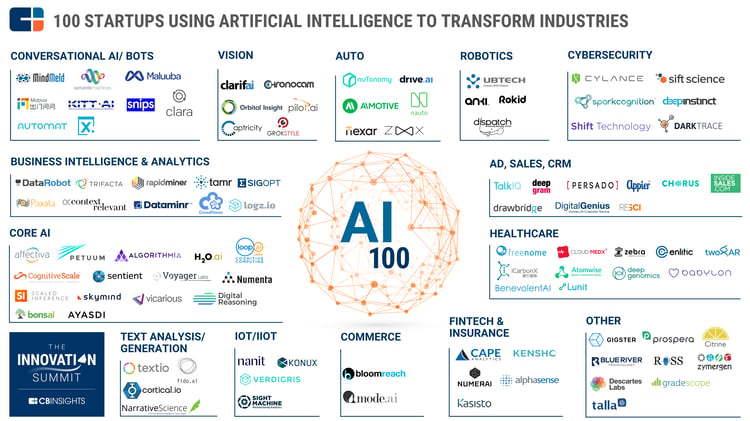 Source: AI 100: The Artificial Intelligence Startups Redefining Industries, CB Insights
Major Bot Stacks
Bots are directly applicable to customer service use cases. And, "bots are made possible by recent advances in artificial intelligence, user interface, and communication."
The bot landscape can be thought of a subgroup of the larger AI landscape.
Bots: What you need to know blog post from O'Reilly is a must read on the bot landscape. This view covers the major players and the role of each component in the stack.
O'Reilly segments the bot landscape into four segments:
Although Chatbots have had mixed reviews for customer service (so far), they are maturing and becoming more useful.
Takeaways: Bots might be immature but nearly every major software company announced a bot strategy in 2016. Watch the trend and the money.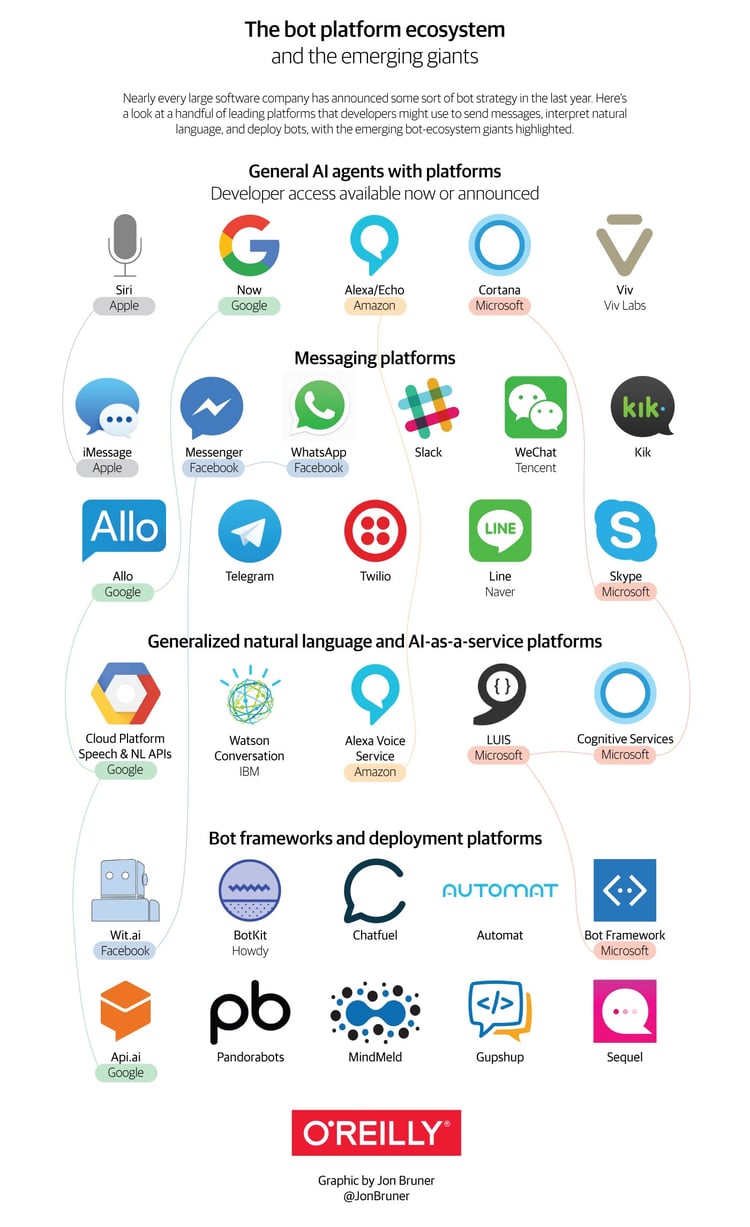 Source: Bots: What you need to know, O'Reilly
Intelligent Assistance and Bot Landscape
This landscape is provided by Opus Research. The IA landscape is focused mainly on customer service and adjacent business processes.
Opus outlines the landscape of core technologies need to build intelligent assistants:
Bot Platforms
Speech Technologies
Avatars
Emotions and Sentiment
Biometrics
NLP, Machine Learning, Semantic Search
Conversational Analytics
Knowledge Management
Then Opus maps out solutions for four segments: personal assistants, personal advisors, virtual agents, and employee assistants. The Opus landscape focuses mainly on intelligent assistants for transactions, interactions, automation and experience vs. other contact center apps (routing, WFO, etc).
Takeaways: This landscape focuses on the contact center and is a good place to start. Dig into some of the companies to see how they are approaching the contact center. There are some very exciting emerging solutions in this space.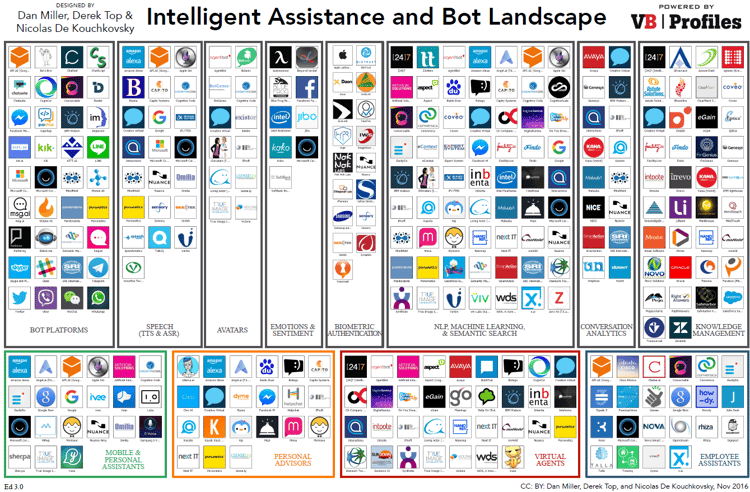 Source: Intelligent Assistant Landscape, Opus Research
Observations
Its inevitable.
At some point you will make a bet on AI to help you run your contact center. (Check around... you might have done so already).
Other people are already betting big.
We've provided five different views of the AI landscape so you can see the market from different perspectives. At a time when we've seen several major contact center infrastructure vendors enter bankruptcy, the landscapes show big money is flowing into AI technologies aimed at customer service.
Quite the contrast.
We recommend following these landscapes and digging down deeper by reading the source blogs and by looking at the companies on these landscapes.
All in on AI?