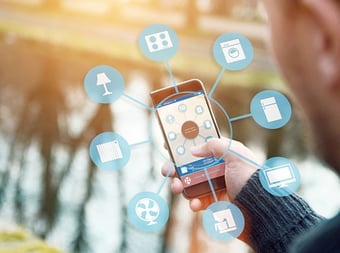 One of the biggest challenges businesses face today is how to win, serve and retain the digital consumer.
Mobile, digital and IoT are forcing major changes in digital strategy, business models and value chains.
Rules and frameworks that worked five years ago are under direct attack. So how does a business develop a digital strategy playbook?
We just returned from the InContextNow conference that focused on how to address these challenges and thrive. During the conference Stone Mantel and a dozen leading brands-- Coca Cola, IBM, Google, Hallmark, Fifth Third Bank, Disney-ABC Television, Planet Fitness, and others--shared their experience and insights into how consumers will behave in IoT world and how business models must change. Their insights where the result of a researched-based digital collaborative they ran over the past two years.
The conference agenda was based on the book Digital Context 2.0. We discussed and debated seven topics to help us develop foundational elements of a digital playbook.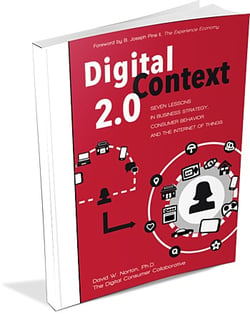 A Watch is Not a Watch
Over Time All Channels Become Queues
The Rise of the Context Comfortable Consumer
What Mode Are You In? Designing for a Connected World
Data & Content Creates the Package
Don't Focus on Loyalty; Focus on Positive Engagement
Hands On: Doing Digital Strategy in Context
I highly recommend reading book to explore each of these areas. We've talked about these concepts in several of our digital engagement blog posts.

Here are three insights from the conference that are particularly important to help you build your digital strategy playbook.
Focus On Jobs To Be Done
Customers hire a brand and product to do a job. So often we (e.g., me) look at our cool products or customer segments and lose track of the primary reason of engagement: there is a job to be done. I love this framework because it tends to transcend hype and get to how you're going to help a customer.
So how do you embed your brand into the lives of customers, when they are living in a digital, IoT, even postmobile world? You help customers do what they want to do and get jobs done with less effort, less friction and less time.
This concept may be no real change from the pre-digital world except that consumer behavior has radically changed. Customers have a digital mesh of context surrounding them that they meander through and with the expectation of immediate gratification. And that changes everything.
The goal in such a digital environment is to help people reduce the time between thought and action.
We spent a lot of time discussing how to develop strategies to be in the consumer's activity queue so when there is a job to be done… when there is a thought-action gap….boom, your brand is there to help.
We are using this strategy to develop our how our My:Time product engages consumers in their queue of activities and gets their job to be done easily and quickly.
Design Smart Products
Does an Apple watch tell time better? When a watch becomes a smart watch, then it's not a just a watch anymore.
A smart watch uses context to do additional jobs. It helps me queue and manage my activity, it alerts me, it provides in-moment knowledge and more. It reduces the time gap from thought to action.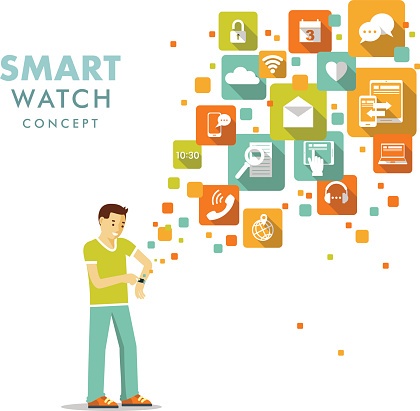 Things becoming smart through data, context and insight was a thread woven throughout the conference. One key insight was the notion that when dumb products become smart, consumers expect much, much more.
If you like this post, subscribe to this blog and get email updates.
One heated discussion was around what it means for a product/service to be smart. Smart means the product can learn and evolve to better get jobs done for you. Smart means it can predict and provide help before you need it. It was suggested that GoogleNow was such a smart product because it can respond even when you're not explicitly asking for help or advice.
But smart does not just mean a task and transactional function. Because humans are emotional beings, smart machines will need to understand and react appropriately to your emotions. It was suggested that it may even be easier to engage with smart product because machine learning comes without judgement. So in the future we'll see a move away from just transactional smarts to empathetic AI that builds a relationship.
So what is the lifeblood of smart? Data.
Your Data Strategy Is Critical

Consumers are increasingly demanding that products and services be smart. And data makes that happen.
One of my takeaways was how data is becoming a top strategic asset to companies. Not just the data, but understanding how to build a business around data and analytics. Data strategy and analytics is a key chapter in the digital strategy playbook.
For example, how often do you think about the data needed to design an experience? Or are you just thinking about capturing the "exhaust data" that your product gives off?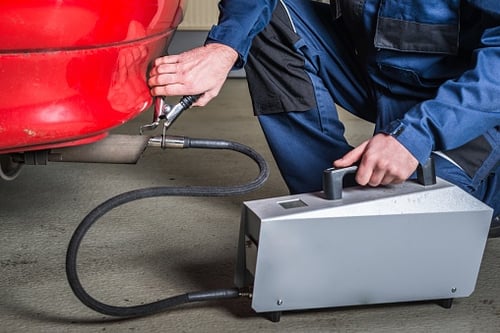 My observation is few companies understand data and analytics enough to build smart products. How would a data scientist look at the problem you face right now?
***
We are executing our digital strategy playbook to make our products smarter based on context. We have a lot more to say on the topic of next-gen experiences and business models needed to win, serve and retain digital consumers. We'd love to share additional insights with you: email, subscribe to this blog, or give us a call.