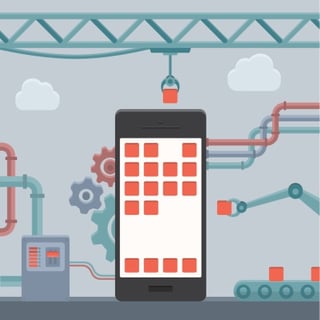 Quick: why do you own a cell phone? Is it to play Candy Crush or Angry Birds? Is it to update your Facebook profile with the proud news that your theatrically gifted seven-year-old has been cast as the third tree from the left in the school's production of the Wizard of Oz? Is it to peek at football game scores during the interminable condo association meeting? It might be for all of these things, but it's primarily for convenience. If you're old enough to remember a life before mobile phones, you'll recall that making calls while on the go involved finding a phone booth and a quarter and pretending not to notice the highly questionable substance sticking your shoes to the floor.
Evolving Customer Expectations
Smartphones have had a curious effect on customers. Their demands were already expanding, but thanks to the convenience of smartphones, customers have more expectations than ever of being able to access what they need, when and how they need it, and simply put, most companies aren't meeting those needs. Many mobile apps today box customers into rigid and unnatural usage patterns, particularly when it comes to customer support. Bad habits carried over from traditional support channels are part of the reason that mobile customer care is so broken today. The good news, however, is that the patient can be saved.
In part one of this blog series, we discussed the idea of building a new mobile customer experience to match the way customers use their mobile devices today. "Mobile first" customer care is a way of building an experience specifically around customers' needs instead of contact centers' needs by transforming the existing interaction model.
What is Mobile First Customer Care?
There are several critical support pillars that hold up the foundation of mobile-first customer care. We'll discuss them more in-depth later in this series, but in a nutshell, these include:
App-to-agent. Most apps today don't include a fast and easy pathway to a live agent at any point in the transaction, and this is a mistake that undermines the quality of the mobile experience.
Start-stop-resume. Customers today shouldn't be chained to an interaction once they've begun it, and why should they be? A well-built mobile app should allow customers to engage on their terms, and this may mean starting a transaction now and finishing it at a more convenient time.
Convergence. Mobile phones aren't a single channel. They allow for telephone calls, e-mail, Web chat, SMS and social media. The mobile device is the most natural place for truly omnichannel customer care to take root.
Transactions in context. No two mobile customer support sessions are the same, and companies shouldn't expect them to be. Customers want personalization today, and companies have all the data they require to offer personalized care. The question remains, why aren't most organizations offering this kind of care in context?
A proactive approach. If a customer has spent more than a few minutes interacting with a mobile app, chances are good she could use help. Most companies still wait for their customers to come to them with problems. Mobile-first customer care means reaching out to customers proactively to offer help.
"I'm the Customer, and I'm in Control"
As mentioned in part one of this blog series, too many companies build mobile apps from the inside out. Since the goal is to provide customers with they want (and not what the VP of marketing wants), truly customer-centric apps should be built from the customer's perspective and facing in. In this way, it becomes less about building a corporate-facing mobile customer program and more about building a customer-facing mobile experience. Call it a "mobile customer manifesto," if you like…customers may not be using that term, but they're certainly already embracing the ideas behind it.
The Internet of Things is Converging in Customers' Hands
Many companies have already been left behind by allowing their mobile apps to rust in a pool of last decade's stagnant technology. As mobile technology merges with the increasingly relevant Internet of Things (IoT) idea, they're about to get left even further behind.
The IoT revolution is leading to an increasingly connected world in which sensors in appliances, machinery, home energy management systems, building control systems, automobiles, family members' mobile devices and more will converge with people, processes and technology. One of the most critical places the IoT will converge is on mobile devices. This represents an enormous opportunity for a company ready to embrace it, and a scary nightmare for companies that aren't prepared.
Technology has evolved and so too have customers. Now it's the job of companies to evolve in order to engage those customers.