I just returned from a few days at the Shoptalk conference where 3,000 people came to explore nextgen commerce. I thought I'd share ten takeaways from ShopTalk that look at how digital is disrupting commerce. I found trends here that will likely impact all industries.
1 Physical stores will increase in importance but not the way they are today. Stores change from a place where goods are stored to a place where experience is delivered. A prime example of this new store front is Bonobos where men can try and order clothes in a "store" and then have them delivered afterwards. Such new stores are an example of adapting the physical to the digital context.
For the past 100 years life was organized around the automobile. Now it is organized around the mobile phone. And that will have a profound impact on the physical store.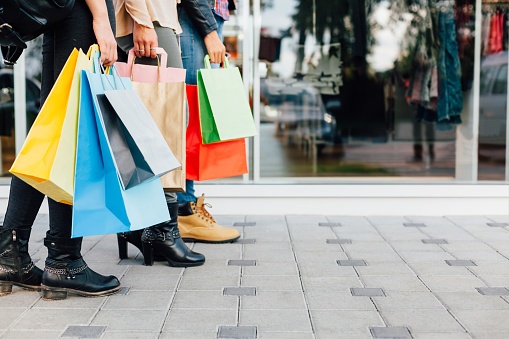 It was forecast that retailers will not own any infrastructure in the future but rather operate their businesses through APIs that access micro-services being provided by specialized vendors. We see this already on the digital side but it was said this will continue to extend into the physical world with a robust ecosystem of micro-services.
2 Personalization and mass market brands give way to niche brands. Economies of scale in supply chains and manufacturing needed to provide products are being reduced by digital services. This is allowing consumers to purchase goods at reasonable prices from smaller brands that resonate more with them.
3 The algorithmic business and move from not so smart to very smart products. Leading retailers and using data analytics to change the game by aligning products and services much tighter to the customer's wishes. No part of the commerce ecosystem is left untouched by data analytics.
For example, the retailer Stick Fix employs a team of 80 data scientists to drive the business. Algorithms sort through 1,000s of products to find a set of clothing very closely aligned to the customer's needs and preferences. Then a Stick Fix person takes this set of clothing and picks out the specific recommendations for a customer. Very clever compared to the AI system making final recommendation.
Barney Pell provided a forecast of how AI will impact retail-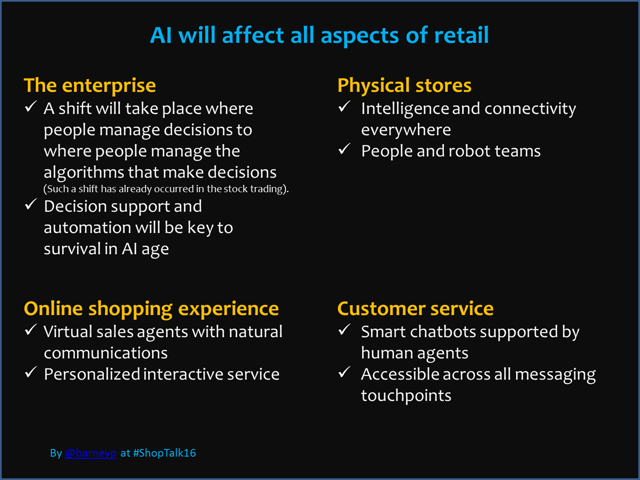 One speaker even said that all major brands will use chatbots (a form of AI) within 5 years.
One speaker suggested we will need to provide the optimal mix of AI and people: 100% of either will not work. AI can be used to perform routine and boring tasks and people can be used to build and maintain emotional connections. I think this will be particularly true in customer service (we're already working on that).
4 IoT is coming but will take some time to mature. Clear use cases and value props are needed to move past the early adopters. However, there was general agreement that everything in retail is moving toward embedded IoT and such a move will transform products and experiences.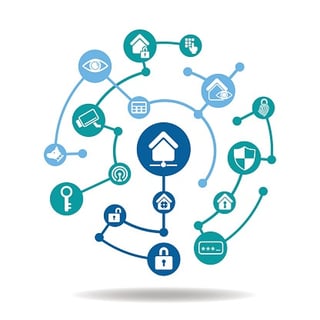 5 Customer Service, Care and Help. Customer service kept a low profile at Shoptalk except in a few sessions. The IOT section talked about the criticality of embedding care into the ecosystem. Facebook talked about using Messenger and chatbots to provide care.
One great example of care was from HotelTonight. HotelTonight (the world's first made-for-mobile hotel booking app) has a mobile concierge service where an "agent" will follow you through the entire hotel journey and be there to resolve issues and provide help if needed. Amanda Richardson (VP product) said they are experiencing very strong improvement in business metrics from this service.
6 3D Printing. Well this panel was jazzed about what's coming. This technology has the power to transform retail by allowing more flexible and customized manufacturing. There was talk here about everyone having a body scan profile on file so clothing and other things could be custom fit. Could we use that body profile for authentication too?
7 Mobile app functionality. Where you are light in your mobile app, you lose. Asked about what will trip you up in your mobile app, one retailer said you need to be strong across all functional areas in the app. Facebook said 45% of commerce now includes mobile at some point in the journey.
8 Google. Micro-moments were discussed in detail as the new reality for engagement. We've talked about micro-moments in our blogs. Instead of using a linear journey, customers are engaged in micro-moments of attention and "while" they are doing other things. This presents a significant change in how customers want to interact. Google showed new shopping tools supporting such behaviors.
9 Facebook. Clearly Facebook wants to change how commerce is performed. Messenger was discussed as key platform to engage and deliver conversational commerce. I think Facebook strategy is fascinating and has the potential to disrupt many aspect of commerce.
10 Digital disruption. ShopTalk was a great opportunity to witness an industry going through truly disruptive change. Digital and analytics rule the transformation. IoT and 3D print are right around the corner. We witnessed the new brands that are being built on these foundational digital elements with new business models that are growing very fast. One thing all new brands excel at is having a very tight focus on the customer.
Fifty percent of brands would, according to one speaker, will disappear in over the next 5 years because they won't adapt. Another speaker advised to "build the business that will make your current business obsolete."
Read our insights on engaging the digital consumer in this research report. Click to get your copy.