Five Ways AI Blueprint and Alme

Help Enterprise Businesses Succeed with Conversational AI
For enterprise businesses, the conversations you are having with your customers and employees can help transform your future. At Verint Next IT, we deliver intelligent self-service solutions to help companies elevate the customer experience while driving operational efficiency.
We understand that the challenge for many companies exploring AI and automation initiatives lies in knowing the right place to start and also how to grow. That's why we offer AI Blueprint™.
With AI Blueprint and our proven Alme® platform, we ensure that every enterprise succeeds with AI now and in the future.

Download the eBook to learn: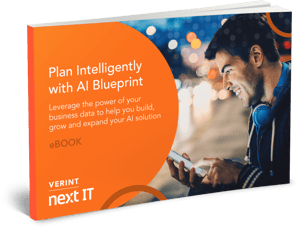 What AI Blueprint is, what it does and why it matters

The benefits of Conversational AI and how it is transforming businesses everywhere

Five ways AI Blueprint and our Alme platform help companies thrive with intelligent virtual assistant (IVA) and chatbot solutions

---
ABOUT VERINT NEXT IT
Next IT, a Verint Company, is the provider of conversational AI systems for the Global 5000. We propel businesses into the intelligence revolution with AI technologies that are enterprise ready on day one.
Our customers and strategic partners use our technology to build business-first AI solutions that put them a step ahead of their competition. By combining a proven platform with advanced conversation intelligence and experience toolsets spanning natural language understanding (NLU), natural language generation (NLG), machine learning, and conversation analysis, we ensure that every enterprise succeeds with AI now and in the future.