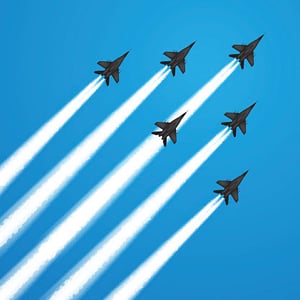 Over the last ten years, most of the IVR market has shifted to the cloud and that's created a lot of disruption. If it's been a few years since you've considered an IVR upgrade, you might be surprised to learn that the "usual suspects" for your vendor short list aren't the usual suspects anymore.
So if you are in the market for hosted IVR, we thought we'd save you some effort since you're probably already frenetic preparing for the 2015 budget dance.
The following list of hosted IVR vendors is based on research by a leading analyst firm that took into account the most recent full-year revenue data available (2013).
It turns out the U.S. hosted IVR market has a natural split between six leaders who collectively serve about 60% of the market, and a long list of followers who each have a much smaller share. In alphabetical order, these are the leaders:
All of these vendors have been in the business a long time, have considerable capacity and mature offerings, and each would be a safe choice for your short list. Each of these vendors has different strengths and approaches to their self-service offering, and some have innovations that clearly separate them from commodity IVR services.
Curious about IVR pricing models? Click here.
The remaining 40% of the hosted market is rather fragmented. Some of these vendors focus on IVR, while others simply include IVR as an add-on to other offerings. Most have been in this market for a long time, and many have mature and robust offerings… but the range of maturity and robustness varies much more in this list than among the leaders in the list above. Depending on your requirements, you may find some candidates for your short list in here as well:
Genesys (Angel)
Interactive Intelligence
Teleperformance
XO Interactive

And remember, it's not all about just keeping the lights blinking on those servers in the cloud. A good vendor will improve your IVR's performance year after year—saving you more money and creating a better experience for your customers in the process. If that's not happening with your current vendor, maybe it's time to consider a change.