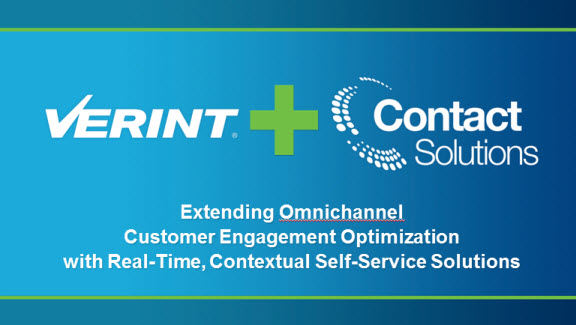 Today, we're pleased to announce Verint's acquisition of Contact Solutions, a leading provider of cloud-based voice and mobile customer care solutions.
Like Verint, Contact Solutions is focused on helping customers achieve better outcomes with less effort. With a rich history and dynamic customer base, Contact Solutions provides real-time, contextual voice and mobile self-service solutions. Behind the solutions are a wealth of automation and analytics-driven personalization that aligns exceptionally well with the Verint Actionable Intelligence vision and further extends our omnichannel customer engagement portfolio across the enterprise.
Today's forward-thinking organizations understand the value of delivering personalized and contextually relevant interactions that enhance the customer experience and heighten loyalty. And thanks to the rise of "digital-first" approaches to customer engagement, consumers can now start and re-engage at any point in the customer journey and from any number of devices and channels.
With the addition of innovative companies like Contact Solutions, Verint is continuing its mission of delivering the world's leading Actionable Intelligence platform.