As we see played out in most enterprise contact centers – most technologies are decentralized, unintegrated and lacking common goals.
The challenges for you as contact center leaders and front-line managers are to deliver an optimal customer experience that satisfies the customer, while maximizing the value of your operational teams, processes and infrastructure. These conflicting yet equally critical priorities compound the already complex role you have to create a smoothly executed, cost-savings operation that solves your customers' needs in the ways they wish and need to be served.
So what does this mean for your enterprise? How can technology vendors become true partners to maximize the pulse of your contact center?
These four steps will help:

Identify

vendors who understand contact center challenges and priorities.

Simplify

integrations and processes so that the contact center operation is working efficiently for you with minimal effort on your part to maximize operational outcomes.

Expect and gain

actionable insights from solutions that both drive processes and keep you informed.

Be open

to new ways to leverage existing and new technologies to meets your needs today and into the future.
Sounds complicated? Well it doesn't need to be.
As we learn in a June 2016 report from Forrester Research titled "Vendors Battle For the Heart of the Contact Center," Forrester has identified three categories that drive the heart of the contact center: queuing and routing, workforce optimization (WFO) technologies and customer relationship management (CRM) technologies.
Here's our take on these categories: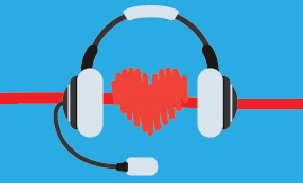 Queuing and Routing

is the GPS, directing customers where they need to go.

WFO

is the secret sauce for operations teams; it's the mothership that drives productivity to consistently achieve KPIs.

CRM

acts as the customer information payload, without it you have a sinking ship.
Now here's a twist:
These three technology categories are extremely critical, but by adding one additional technology contact center leaders will be empowered with the full picture of the customer interaction and agent engagement lifecycle. This takes the heart of the contact center Trifecta above and evolves it into a Superfecta that works harder on your behalf, so you don't have to.
And here's how:
When you consider all the automation options available today, simple queuing and routing technology isn't enough. Add in adaptive IVR technology (the good stuff, not the set it and forget it kind) – which for the majority of enterprises serves as the front gate for the contact center – and you get a rich customer self-service interaction, robust data intelligence, and the smarts to help the callers easily solve their needs and get them where they need to go. It's the booster in the engine that, when working in tandem with WFO, delivers a stronger, more valuable and actionable analytics toolset that contact center leaders can benefit from.
Consider this information gap…
Today, contact center leaders and their front-line managers are generally not evaluating IVR and WFO analytics together, and therefore are only seeing half the picture of the engagement experience. To paint the full picture of your service delivery model, and the customer and agent impacts, the data analytics needs to be easily available and actionable from these two powerhouse technologies.
Why is the value and linkage of these two typically disparate toolsets important to understand?
Here's the one thing we all know, as a contact center leader you have limited time, so if the solution is not intuitive and actionable it's worthless to you. Connecting the dots from IVR to WFO actionable analytics can improve your insights and add value when you look at routine issues and when problems arise.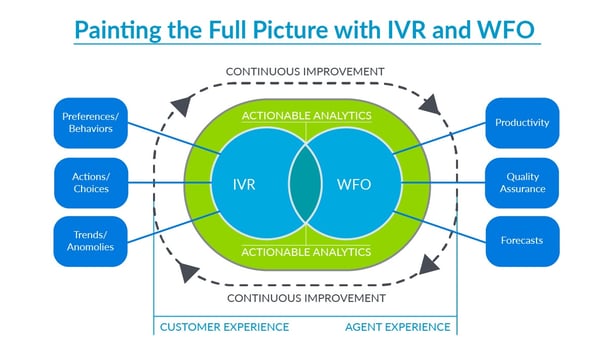 Rethinking the IVR
Unfortunately for many enterprises, the IVR has traditionally been considered a plug and play necessity, not usually leveraged as a technology that can improve CX, complete with customer data that enables contact center leaders to continuously improve the experience and processes. Let's face it, if it can do all that it provides huge benefits to your customers and your agents.
Picture this new scenario:
The contact center executive gets a call and it's not a good one. Her boss wants to know what's going wrong because KPIs are out of whack.
Simultaneously, the operations manager is walking into the executive's office with an alert. Performance numbers are down, resources are stretched too thin, and it's impacting staff productivity.
The group realizes it's time to hustle and figure out the cause. Pull the WFO dashboards to determine the shortfalls in the agent side. Compare those stats to the IVR interaction data dashboards to make an educated decision.
They find that the IVR data reveals the call patterns are driving customers to speak with an agent after consistently choosing two very specific menu options.
They realize it's time to dig deeper. When the customer gets to an agent what does the data show? WFO analytics can quickly reveal this.
The team concludes that easy modifications can be made to the IVR call flow to improve performance and productivity. This will bring operations numbers back to acceptable levels.
A plan is made with the IVR vendor, and operational KPIs get back on track.
The contact center executive reports back to her boss that improvements made today will continuously enhance CX and staff retention and productivity issues to meet annual goals.
Get this Forrester report
Learn more: Vendors Battle For the Heart of the Contact Center