He wants attention, love, care, and engagement – just like us!
Mohawk has been part of my family for 4 years. He's loving and affectionate and so well-mannered. Plus he's a cutie! This little guy has taught my family new things about caring and paying attention to who and what is right in front of you. Plus we've had to learn accommodations to our schedules and lifestyle. So let's just agree, Mohawk is a guru on relationship development and CX.
Some things I've learned from my dog DIRECTLY relate to how we engage with customers and how customer experience (CX) implications should be considered at all times. And to be honest, this correlation came to me while taking Momo (his nickname) out for a walk this weekend.
1. He likes treats.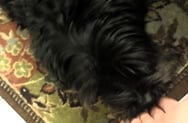 If I'm in the kitchen Momo follows me wagging his tail, because there's a chance he'll get a treat. Sometimes he gets one, and then he shows me lots of thanks (more tail wag, licks, snuggles)...well maybe after he's grabbed the treat, ran to a comfortable spot and wolfed it down. His favorites are Blue Buffalo, Nutro and these homemade peanut butter dog cookies from Community Canteen.
Customers are not very different. When they're in your "kitchen" (website, app, store, blog, etc.) they are hungry for the tidbits you can feed them in bites that:
Whet their appetite for more information/offers.
Satisfy their interest in what your benefits, offerings, deals and/or value bring them.
Entice them to do more digging.
Drive them to make a decision, purchase, complete a desired action, referral, recommend.
And they shouldn't have to beg for it. Figure out how to feed these treats to them based on individual interest, or for segments of your audience - just make sure it's valuable and relevant! If so, they'll be back for more and potentially will be watching for opportunities to re-engage.
In fact, according to the Salesforce 2014 Mobile Behavior Report, 46% of consumers say they use push notifications because they like receiving personalized alerts, suggesting a valuable opportunity.*
For example, my husband loves Tommy Bahama brand, and they love him too. He's made it to their "good list" and gets his yearly free certificate right before Father's Day and guess what, he'll browse online or in person and spend more than that. And if he needs help, they help him beautifully. They've got him engaged in the right way, and his CX is continuously off the charts. Groupon is another great example. Their offers are relevant and their customer service is exceptional whenever it's needed.


2. He likes walks, and running is loads of fun too.
Mohawk loves to explore and sometimes walks comfortably alongside me sniffing around where I lead him. Other times his interest is perked (his senses kick in and a smell or sight of an object, animal or favorite spot is near), and he's pulling the leash and leading me to where he wants to go. Let his leash go in a safe area he can run and explore, and his day just got even better. Good boy! He's making his interests clear in all ways. Consumers don't ask for much, just recognition of what they need and a clear, easy path to get there and choices that fit their interests. Make it exciting and of value at the same time.
Ask them. "How can I help you?!"
Better yet, figure out what their interests are (you have their interaction data, right?), and offer up recommendations. That could be a deal, information, directional guidance, a piece of RELEVANT content, a chat opportunity to directly engage and help, and on and on.
Prominently promote your latest and greatest
Just don't fail at it. I once was searching for information on a major retailer website and decided to chat with an agent offering to help. Wow, I thought...great timing and convenient. After back and forth with the agent who had no idea what I was searching for (first CX fail), turns out they couldn't help me in chat and told me to call. Whoa! (Second CX fail and not cool.) Now I was frustrated for the waste of my time! Do you think I made that phone call...well, actually I did and a few more. Then the VP of CX stepped in and personally saved the day, and the white glove treatment saved our B2C relationship. Further help in person by a wonderful representative to finish the transaction showed me this company just had a few kinks in a good system. This VP became my champion and is now on my A List.
I stuck through it because I understood the customer engagement intricacies but others might not have. Moral of the story, don't mess this one up. Understand customer needs and how to best help to make their interactions easier and fruitful for you both. Gartner also sees this to be critical, and has found that over 90% of large organizations are measuring customer retention and over 70% are measuring customer advocacy.**
3. Mohawk loves petting and belly rubs.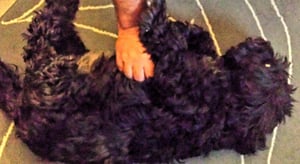 Ah, the belly rub! No dog can resist, it's just not in their makeup. A little TLC and attention at the same time. They get their fix (the petting for one), and we get ours (quality time and joint affection). Mohawk may let me know he needs some loving, and other times I'll call him over for some interaction. He knows my family and I will make him happy at either time. According to www.dogyears.com he's in his thirties, so Momo is pretty set knowing what he likes.
You know where this is going? Yup, customers need nurturing too.
You may attract customers with an offer or tidbit mentioned above and then you have to follow through with even more loving attention to make them happy/engaged and knowing you care about their needs and wants. Don't make them do all the work to get what they want. They've already told you they're interested because of the initial response.
And other times they seek you out, and those are the golden ticket moments you really don't want to mess up on. Engage them and help your customers in a variety of ways (be easily and visibly available to help; provide content, options and offers, give them something they can't resist because it's meaningful to them (not to you ). The relationship will have value for you both.
4. He makes his feelings known.
Momo will wag his tail when he's happy and bark when he's concerned. Now his bark may be because someone or something is near our house or he's heard a loud sound (our neighbor's motorcycle is a particular instigator because of the sudden vroom). He's very protective.Translate this into CX ratings.
Happy customer = great CSAT, NPS, word of mouth, positive tweets or posts and customer loyalty. Bingo! You've won the lottery on fantastic CX and the blue ribbon for customer engagement.
Unhappy customer = do I really need to spell it out, because they already will - with negative reactions that hurt your organization and spread quickly via social media and across their in-person and online network. Don't the negative comments and results always sound louder than the good ones?
In summary:
Feed your customers' interests.

Provide them an easy customer engagement path and guide when you can.
Nurture the customer relationship whether they knock on your door or respond to your offer.
Ensure your customers' experiences are top notch, and identify opportunities to improve CX and customer response.
My final recommendation, get a cockapoo. They're the best!
Cheers, Andrea
Footnotes:
* Salesforce. 2014 Mobile Behavior Report.
** Gartner. How to Manage Customer Experience Metrics. 5/20/2015