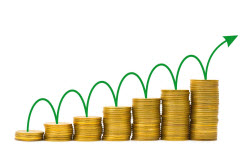 We've all heard the buzz about personalized IVR self-service and how it takes the cost out of contact center operations. But, it can also put revenue goals over the top as well by improving agent productivity.
You'll get more productivity out of your existing agents, and it will enable your contact center to scale up call volume without adding more agents to the mix.
Imagine this scenario. You run contact center operations for a Fortune 100 company, which handles millions of customer service calls per year. You operate a sophisticated network of phone systems and IVR applications, supporting call centers in multiple states. You're on the hook to add to top line growth. On top of all of that, you have to overcome the challenge of scaling your operations to process significantly more calls, without dropping the ball on service.
Personalized self-service may be just the ticket. Aside from increasing customer preference for self-service to complete routine calls, it enables agents to spend less time on low-level transactions, and more time on high-value calls that drive more revenue, sales, and loyalty.
Business benefits of personalized self-service:
Drive more routine calls through personalized IVR, mobile and other eBusiness channels
Expand service offerings, without adding more agents to handle the load
Boosts preference for self-service
Reduce caller frustration
Drive customer loyalty
Reduce customer churn
Increase agent productivity